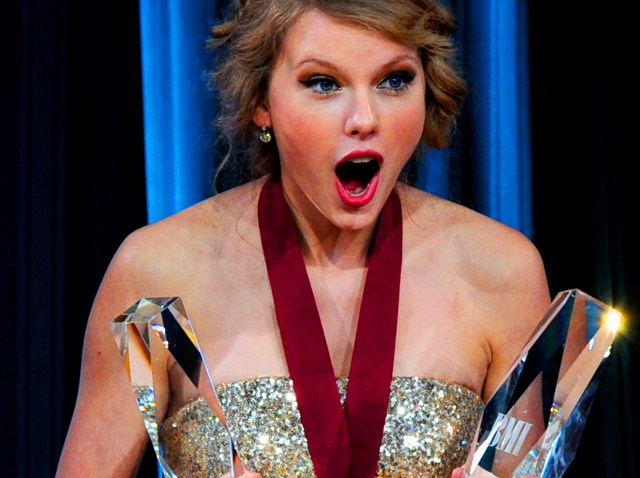 Bowling fans have picked country star Taylor Swift as their 2010 choice for celebrity induction to the International Bowling Museum and Hall of Fame.
Swift barely beat pop star Justin Bieber to secure her lane in bowling history. The pair were among nine celebrities the Bowling Proprietors' Association of America nominated for their public support of the sport.
Swift has been spotted and photographed bowling with friends.
The association, in making the announcement Wednesday, said this is the first year they've opened up the celebrity induction process to fans. Nearly 1.3 million votes were cast online.
Here are the results:
1. Taylor Swift - 613,324 votes
2. Justin Bieber - 608,015 votes
3. Bill Murray - 21,451 votes
4. Jeff Bridges - 14,754 votes
5. Pauley Perrette - 9,472 votes
6. Kim Kardashian - 3,628 votes
7. Dwight Howard - 779 votes
8. Chris Paul - 663 votes
9. Jimmy Fallon - 623 votes
We just want to say we are bummed that NBC's Jimmy Fallon ended up at the bottom of the list. We think he would have made an excellent inductee and has a perfect platform on late night to let the world know about his place in the hall.
The BPAA even pointed out these reasons for his nomination:
Jimmy Fallon – The former Saturday Night Live star turned late night talk show host regularly conducts zany segments with celebrity guests including Grapefruit Bowling with Jennifer Aniston, Drew Barrymore's bowling ball lick and a perennial show favorite – Human Bowling.
See? Doesn't he sound like a much more fun choice America?
We've been singing his catchy tune "Get Two Beers and Jump" from last night's show, and could just see Jimmy altering to something like "Get Two Beers and Bowl (or Roll)."
If you missed Fallon's song inspired by Jet Blue flight attendant Steven Slater, here it is:
The museum, which moved from St. Louis last year, is based in the Dallas-Fort Worth suburb of Arlington. Swift's photo and plaque will be displayed at the site later this summer.
Congrats Taylor.
Copyright AP - Associated Press