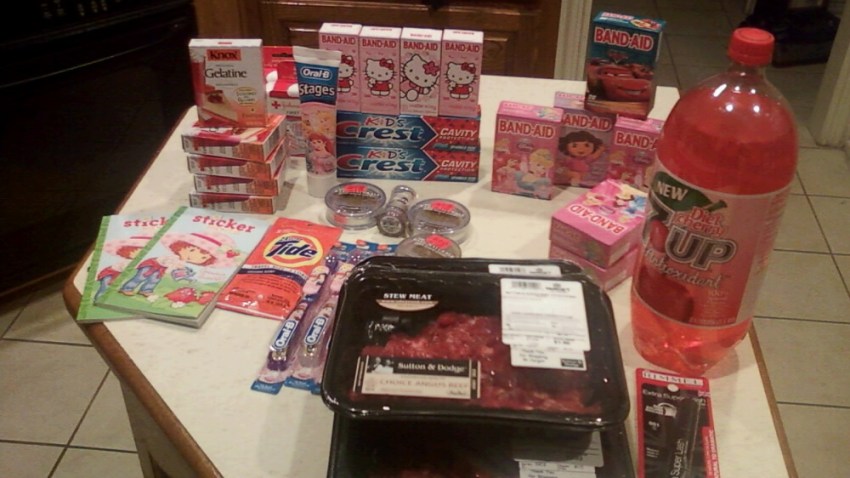 There are TONS of terrific steals at Target right now. Have you noticed they totally go in spurts? Jump on this one!
Here are my favorite steals:
Old Spice body wash travel size 1.7 oz. on clearance for $0.48– down from $0.97!
Use the $3/2 coupon from the 2/21 PG
Final cost 2 body washes for FREE!
Crest Kid's (4.6 oz.) toothpaste $1.97
Use the $1/1 or $0.75/1 coupon from the 2/7 PG (value varies depending on region)
Plus, use the $1/1 Target store coupon (click on the "Kids Spring Savings" category on the left hand side)
= FREE!
Kids' Band-Aids (20 ct) priced around $1.89
Use the $1/1 coupon from the 1/3 RP
Plus, stack with the $1/1 Target coupon
= FREE + Overage!
GE Reveal 4-pk. Light Bulbs on sale for $2.00 each
Buy two packs = $4.00
Use 2 $1.50/1 Target coupons from here
PLUS use the $1/1 GE coupon from 3/7 SS
= FREE + Overage
Sutton & Dodge (Select Meats) $1.99/lb
- Use $1/1 Target coupon here
= 99¢/lb meat (if you buy 1 pound packages)
Diet Cherry 7-Up (2 liters) 79¢
- Use $1 off 3 peelie (found at CVS)
= 46¢ each
Tide (trial size - 1 load) 97¢
- Use $1/1 coupon from 3/7 P&G (ANY size)
= FREE
Loreal Make-Up (Select Items) Clearanced to $3 and less
- Use $3/1 coupon from 1/3 RP
= FREE + possible overage
Rimmel Mascara $2.89
- Use $3/1 coupon from All You magazine
= FREE
My picture is really only a partial since I had already started to put a lot of stuff up when I took this one. My total paid was $24.23 BUT that included 2 HP ink cartridges ($43 total). So tons of overage to pay for some of the ink. Love it!
Coupon match-ups courtesy of Hip2Save. Also, check out Denton Coupon Divas here. These ladies have some great Target match-ups as well, and they're local Texans!