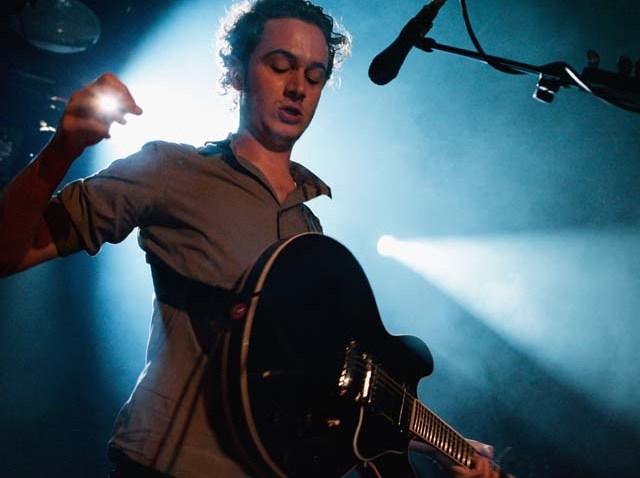 Typically in the days surrounding Austin's SXSW music festival, a few acts push through North Texas that might otherwise get to play in the Metroplex. This weekend also hosts the North Texas Irish Festival in Dallas' Fair Park ... which means there are even more fun bands to see this weekend.
First up is Texas-based artist and songwriter Sam Baker. Baker, who was nearly killed more than 20 years ago during a bombing in Peru, takes the stage at Rock House Films (3006 Cole Ave. in Dallas) at 7:30 p.m. Saturday. Since releasing his debut album in 2004, Baker, ever a storyteller, has released three highly-regarded and well-respected albums. If you aren't familiar with his work, his vocal delivery is a mashup of Tom Waits and John Prine. And, he tells pretty cool stories. Definitely worth a listen. Get ticket information here.
Over in Grand Prairie, the Uptown Theater is celebrating Texas Independence Day (March 2) with trio of musicians who are fine examples of what "make(s) Texas music so unique." Renowned musician and songwriter Darrell Scott, who will soon release his eighth record, a two-disc 21-song marathon of an album, will take the stage and swap stories with Jon Dee Graham and special guest Guy Forsyth in an intimate performance on a small stage. The show begins at 8 p.m. Get ticket information here.
Looking for something a little more upbeat? How about a lot more upbeat? Austin's Bob Schneider is headlining a sold-out show at Dallas' Granada Theater Friday night. If you've never seen Bob live and don't have tickets for tonight, don't fret. Schneider plays both Dallas and Fort Worth almost monthly. In fact, he plays Poor David's Pub next Thursday night. Get tickets while you can.
Self-described "bastard" band Great Big Sea will make a stop at the annual North Texas Irish Festival this Saturday. After 15 years and 11 albums, GBS isn't slowing down and resting on their laurels. "If you are not going forwards, you are going backwards. And we hate retracing our steps," said lead singer Alan Doyle. Read that as there are still plenty of raucous songs about Newfoundland, seafaring in the North Atlantic and, of course, love. Throw on your clan's tartan and check 'em out. Read more about the North Texas Irish Festival here.
Multi-Grammy award winners and Denton-based band Brave Combo take the stage at Poor David's Pub on Lamar in Dallas Saturday night. Pull up one of David's small colored chairs and sit back and enjoy. Joining Brave Combo will be Silvermine, Conn., Chris Berardo & The DesBerardos. Western Beat calls them "One of the best roots rock bands in America." It's going to be an great night of music. At least, that is what Brave Combo posted on their Web site. On Friday, Brave Combo plays the very dark and intimate Scat Jazz Lounge in Fort Worth (111 West 4th in Sundance Square). Dancing encouraged.
Other acts playing this weekend:
Twiztid, Blaze, Kung Fu Vampire and Potluck at the Lakewood Theater on Saturday.
Tyrone Wells, Roy jay and Tony Lucca play The Prophet Bar Saturday.
STS9 and Big Gigantic play the House of Blues Saturday.
Doyle Bramhall and Bugs Henderson light up the stage at the Granada Theater Saturday.
Finally, Brandi Carlile brings her sultry pipes to the House of Blues on Sunday evening.