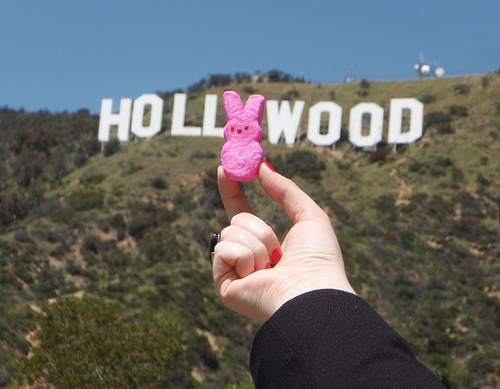 We know that Easter means Peeps overload, but just humor us on this last item -- it's totally worth it -- and we can shelve the Peeps thing for another year.

The Washington Post's annual Peeps diorama contest, in which people conceive elaborate scenes using the marshmallow critters, drew more than 1100 entries this year. The Post narrowed the submissions down to the top 40; some of our favorites include a Chinatown scene where Peeps-king ducks hang upside-down in a restaurant window, a recreation of the Miracle on the Hudson landing of US Airways Flight 1549 (topical!) featuring Peeps in lifejackets, and the brilliant Peep on Wire, a sugary, pastel homage to Philippe Petit's historic tightrope walk between the Twin Towers, as profiled in the award-winning Man on Wire.

First place went to NightPeeps, by Melissa Harvey of Arlington, Va., a faithful rendering of Edward Hopper's iconic Nighthawks diner scene with behatted Peeps. "I wanted to re-create the bleak urban landscape," Harvey is quoted as saying, just in case you didn't think marshmallow art was serious business.
You should really click through the full gallery at the website.
Copyright FREEL - NBC Local Media