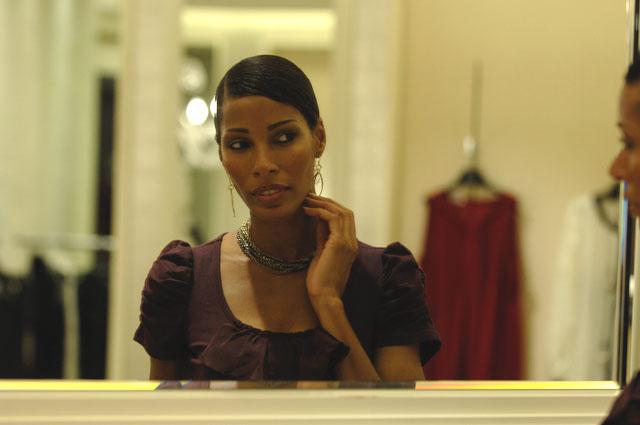 Clad in fitted jeans and a gorgeously simple purple top, Carlotta Lennox exudes the classic, comfortable style that's her signature. "I don't ever do 'over the top' with what I wear, but I love accessories, so sometimes those are a little bolder," Lennox said of what she gravitates to when she shops.
Not that she's had much time to work on her closet lately. She is currently maintaining a full schedule as a model with the Kim Dawson Agency and working non-stop as co-founder and co-director for the buzzed-about philanthropic initiative, Industry 4 (I4).
Fielding numerous inquiries on the heels of a hugely successful benefit for I4 earlier this month, Lennox was sweet enough to spare a few minutes for us to talk fashion, FC Dallas, and what's in the future for I4.
Love your earrings, who makes them?
"Thank you! The same designer also did my necklace - one of my all time favorite pieces. Deborah Gaspar is the name of the jeweler.
We're at Saks for this interview because you're prepping for an I4 event in collaboration them, care to fill us in on the details?
"Saks and Modern Luxury invited I4 to participate with them in a men's wear event on Oct.19; we are super thrilled! And since some of the FC Dallas players are going to walk the runway that night, I'm meeting them here to conduct a rehearsal and catwalk lesson with the boys. This will be such a fun way to raise some more money for The Fisher House." (See photos of the FC Dallas players preparing for their runway walk in our gallery below)
You mentioned I4's recent work involving some very cute soccer players, tell me what exactly I4 has been up too? "Well, the FC Dallas boys teamed up with models to donate their time to pose for a sexy, fun photo shoot that resulted in posters and decks of cards that I4 uses to raise funds for current projects. Basically, I4 seeks to fund a specific need for deserving non-profits through doing smaller - but very cool - events. This Fall's initiative has been to provide $21,000 to The Fisher House so that they can buy much needed computers. We are working toward that goal by throwing fundraising events that revolve around the awesome posters and photography that the soccer players and our models made possible.
Okay, so the upcoming event is around the corner, what will you be wearing to the party?
"I'm thinking something very Ralph Lauren-ish. Maybe skinny pants, a silk top, and super-fitted blazer. But I'm not totally sure yet! I could end up in a cocktail dress.
What pieces of your wardrobe get the most wear?
"Jeans, definitely! I'm a mom; so, cute jeans help me go easily between work and mommy mode."
Do you and your daughter have similar fashion sense?
"No, she is much more of a risk-taker than I am. I love that about her."
Where do you usually shop?
"Neimans, Saks, and Forever 21. I love it all equally."
Worst thing you ever wore?
"This crazy, faux-fur vest that was just really too much and too tacky! Yikes."
That does sound heinous, but to end on a positive note, whose style do you admire or feel inspired by?
"I like Kim Kardashian; she always looks put together, and she dresses well for her body type."
Though you can't attend the Saks event in support of I4 -- it's a private party -- you can get donation information and keep up with their fabulous happenings on I4's Facebook page.
Copyright FREEL - NBC Local Media