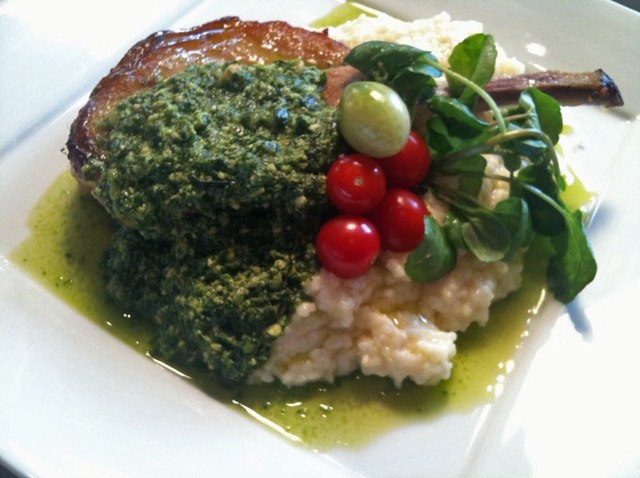 By the age of five, Chef Grahm Dodd had already donned a chef's hat and cooked his first souffle. The holidays were always a special time for Bolsa's executive chef.
"Christmas time was always a time for us to cook as a family, which is how I learned," Dodd said.
Owners Chris Zielke and Christopher Jeffers have enjoyed a steady buzz since Bolsa opened. They owe a chunk of their success to Dodd's delicious delivery of quality food day after day.
Bolsa's ever-changing menu keeps regulars guessing in a good way. The Oak Cliff restaurant's New Year's menu is no exception.
"We have done a pre-fixe menu in the past, but (this) year we want to do something more casual and affordable," Dodd said.
The open kitchen gives guests an opportunity to be a part of the culinary process. It doesn't have a fryer by design. However, diners can find real honeycombs dripping with the thick, sweet bee pollen that's drizzled over favorite entrees and one choice starter -- the bruschetta.
Ah, where to begin with this divine dish?
The savory prosciutto and fig preserve, Fuji apple with toasted pine nuts, smoked salmon with pickled red onions, crème fraiche and capers and Texas tomatoes with Dallas goat cheese and basil feeds two easily.
Put simply -- you must try it.
Another mainstay favorite on Bolsa's menu is the Jimmy's sausage flatbread topped with Jimmy's sausage, sliced banana peppers and mozzarella cheese. Also notable are the Peking duck breast and cheese flights.
The patio is popular with scensters, especially on weekends. The wine menu offers wines in the $20 to $30 range, as well as a nice variety of bottles in the $40 to $50 range.
"We like to call is 'Austin'ese.' It's very laid-back atmosphere, no pretenses … no ego -- come as you are and have a good time," said Zielke.
On any given day or night, expect to see hipsters and an eclectic crowd at Bolsa. Come to eat, but stay to people watch.
If you want to grab local dining flavor in your own kitchen, try to Gourmet Yourself with our special feature.
Bolsa
614 West Davis
214-367-9367
bolsadallas.com