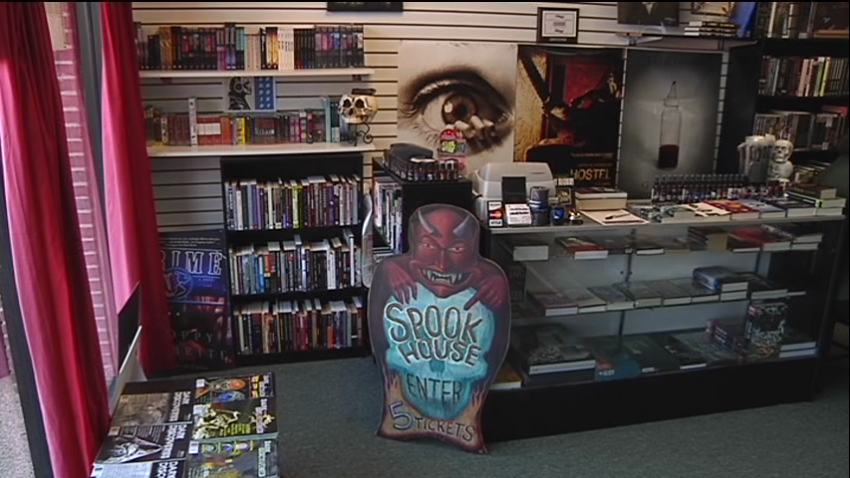 If you're looking for a place specializing in what's spooky, Eerie Books & Collectibles is the store for you.
Owner Randy Ray opened the store in 2008 after selling his successful Internet publishing business.
"I've always been a reader, and I thought it's going to be really hard to compete because Barnes & Noble will just obliterate me. So, why not pick a niche? And there is only one other all horror bookstore in the country. It's called Dark Delicacies and it's in Burbank, Calif., and I thought they were far enough away that they wouldn't be much competition," said Ray.
The 3-year-old shop is home to almost every genre of horror.
"I wanted to make it into a place that was cool enough and carried enough cool stuff that people would be willing to make the trip to see what we have, and it's worked out really well for us because we've had people from Oklahoma just to see us," said Ray.
He wasn't always into horror but was hooked at a young age.
"I went to a flea market when I was 15 years old and bought a copy of 'The Dead Zone' by Stephen King. At the time I was really interested in science fiction and fantasy. I didn't have any interest in Stephen King or horror. The cover looked cool, and it was 75 cents. And the Dead Zone turned out to be one of the best novels I ever read, and I loved it, and that got me interested in Stephen King which in turn got me interested in horror," said Ray
Around 6,000 books make up the store that is also Ray's mission.
"I'm just trying to do my part to keep America literate, you know? The best way to keep America literate is to keep them reading. I used to want to teach English. I wasn't very good at it, and I didn't like it very much. So, you know, owning a bookstore is the next best thing, because I get to do a lot of the things that English teachers do. I get to read books and talk about what I've read with other people who've read books, but I don't have to grade papers, so I'm not in conflict with anybody," said Ray
Despite the horror theme, Ray said younger crowds are also welcome.
"Some people in town, they don't necessarily know to bring their kids in here because I have a wide range of children's books in here, as well as books for adults and kids love the books that we have," said Ray.
Eerie is also a place where you can find community and experiences beyond reading.
"The first book club meets on the first Thursday of each month, and it's just a general horror book reading club. And the second book club is our Stephen King book club. It meets on the last Thursday of each month, and we're reading the Stephen King books in chronological order, so we're starting with 'Carrie' and working our way up," said Ray. "We've got an active role-playing group that plays up in here on Tuesday nights."
All in a place where what's scary is always in style.
Eerie Books & Collectibles
205 North Ballard Avenue
Wylie, TX
(972) 442-9393
www.eeriebooks.com