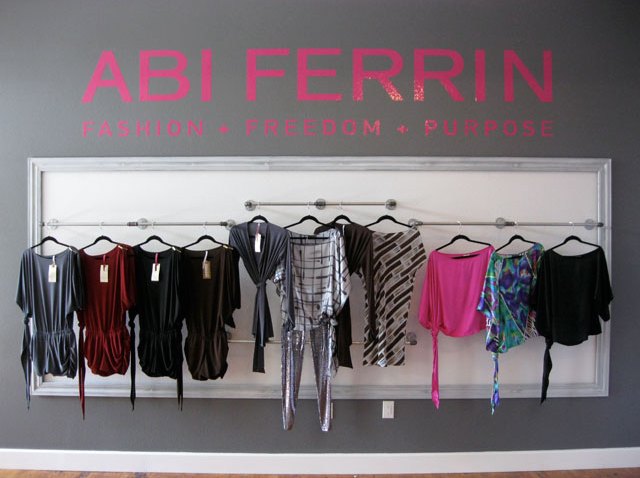 Abi Ferrin is busy. Very busy. Her Fall collection is hitting racks now; Spring 2011 samples are due in the showroom next month. A transformation is in progress at her current location in the Southside building that will totally revamp the shopping experience, and the events she is collaborating on for for Off The Field -- a philanthropic initiative run by wives in the NFL -- are in full-swing.
We are thrilled by it all, especially the new pieces for this season and a sneak peek of what's inspiring her for Spring 2011. Our picks for Fall are the sequined leggings, the graphic printed silk tops, and the very cool ruched skirt in a tribal print. (See those picks and more in our galley here)
Neutral and more muted tones dominate the 2011 Spring pieces, most of which were derived from vintage images of 1950's Dior looks that evoke a feeling of summer as a verb. The leisure class at it's best, with a dash of bohemian ease that's characteristic of Ferrin's uber wearable designs.
Ferrin follows few rules, but did offer up this tidbit while reflecting on this season and last's high hemlines, "Creating the unexpected and featuring one body part at a time are key to a strong look."
That attention to detail and charm extend to her storefront as well, where a major change is in the works. Her former workroom now serves as her permanent showroom for buyers, and a chic seating area is being completed that will offer an intimate shopping experience for those requesting custom designs or hosting shopping events. The front room is also getting a makeover and will turn into a luxury-closet setting that's very private and uniquely cozy.
What is she wearing as she tackles all the glam challenges? "Right now I'm always in our Fall romper that was just launched; it's available in nude, chocolate, black, and wine and makes bare legs look awesome. I'll just add tights if it ever cools off," an excited Ferrin said of her go-to look.
Want to shop her collection? Head to her shop at 1409 South Lamar, The Revolving Door. And go immediately -- today only they are selling the last of the Spring 2010 merchandise at 75% off and simultaneously hosting her monthly Freedom Friday event.
The Shak at Stanley Korshak and Rich Hippie carry lots of Ferrin's designs as well; both stores have separate but exclusive pieces that you will only find on their respective sales floors.
Copyright FREEL - NBC Local Media