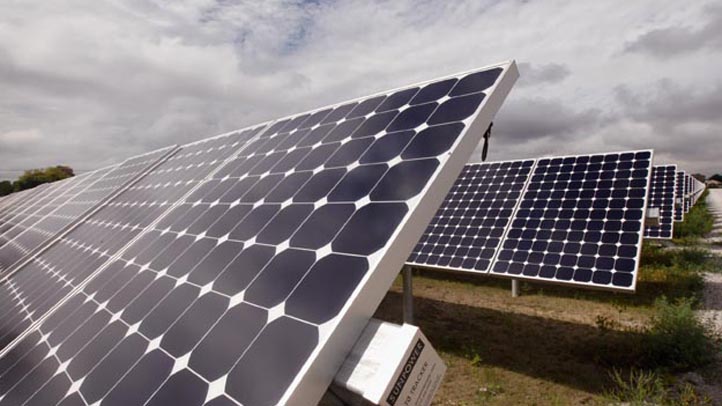 What's green, free, and packed with fun, food and music? The first Solar Powered Music Fest, taking place on Saturday, June 16 along the banks of the Trinity River at Fort Worth's Panther Island Pavilion.
Presented by DFW.com and sponsored by Rahr, this event's lights, sound, stages and vendor tents will be entirely powered through solar energy. If that's not reason enough to attend, the fest will feature musical talent, various art vendors and plenty of food and beer for your sampling delight.
"Fort Worth is a very progressive city; it's a forward-thinking, green city," said festival producer, Marsha Milam, "I thought the city would embrace the idea."
The festival gates open at 2 p.m., and the festivities will run until 11 p.m.
Whiskey Folk Ramblers will kick off the musical performances at 3:15 p.m. Featured among the performers are Ska band, The English Beat, and The Romantics, a rock band best known for their 1980s hit, "What I Like About You."
One of the two stages at the event will highlight the acoustic talents of artists, such as Chris Johnson of Telegraph Canyon.
The event is free, but all proceeds will benefit the DFW Pug Rescue, in honor of Rahr's Ugly Pug craft beer, named after the owner's beloved pet, Oscar. Pug Rescue will be on site accepting leashes, medications and various pet items, as well as monetary donations.
If you're looking for some shade, a limited number of backstage "Pug Passes" are on sale for $35. Perks included in the Pug Pass are access to the Rahr Backstage Lounge, t-shirts and complementary beverages -- and let's not forget about the shade.
Although outside food and drinks are prohibited, don't fret, some of Fort Worth's finest vendors and food trucks will be rolling through the event. Fred's Food Truck, the Bacon Wagon, and In a Pickle are just a few of the foodies who will make an appearance at the festival.
For more details on this event, visit the official festival website.
If you can't make it to the festival but would like to make a donation to the Pug Rescue, you can donate here.