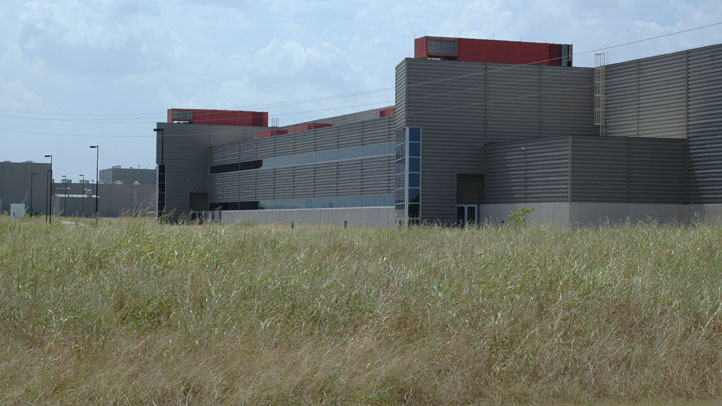 Waxahachie, Texas is known by many for its Victorian architecture and picturesque town square. However, beyond the old courthouse lies another building of unique and historical importance.
Since 1993, the Superconducting Super Collider (SSC), also known as the "Desertron," has sat vacant, surrounded by country roads and a dairy farm. What was once planned to be the world's largest and most energetic particle accelerator complex is now 200,000 square feet of empty factories and 14.6 miles of water-filled, underground tunnels.
How did this laboratory come to be and why was it left unfinished?

The project was first envisioned in 1983 by the National Reference Designs Study. The goal was to build a facility powerful enough to discover the Higgs Boson, a particle that is intimately related to the basic property of all matter and thought to give mass to everything in the universe.
Dr. Roy Schwitters, the SSC Project Director, saw the project as an opportunity to conduct breakthrough scientific research. The former Harvard professor and his family moved from Cambridge, Massachusetts to Dallas in 1989 to begin work on the buildings construction. However, Congress declined funding in 1993, leaving an unfinished laboratory and over 2000 staff members disheartened after devoting the past few years of their lives to the project.
"It was a huge disappointment for everyone involved," Schwitters said. "As time has shown, it was a real loss of pace in science. We would have been running for ten years now."
Although Schwitters cites Congressional funding as the major factor effecting the projects cancellation, there may have been other factors that contributed to the end result. This includes little support from presidents Reagan, Bush and Clinton, as well as the American public.
In an interview with Summer of Science, Dr. John Peoples, Project Director during the SSC shutdown, stated that unlike the NASA space program, the SSC and high energy physics "became too esoteric as a science for the public to relate to."
After the project was canceled in 1993, the main site was deeded to Ellis County, which was unsuccessful in it's numerous attempt to sell the property. An investment group led by the late JB Hunt purchased the site in August 2006 with plans to establish a tier IV data storage center. However, after Hunt's death soon thereafter, the plans were abandoned.
Although the main facility has been vacant for almost 20 years, smaller buildings associated with the project have been bought and used for various purposes, such as a warehouse for plastic coffee cups.
On January 27, 2012 it seemed as some of the buildings on the SSC site may be brought to life once again when the site was purchased by the chemical company Magnablend. However, Waxahachie citizens are fighting against this purchase, concerned that the company will create air and water pollution in the area.
Alex Schindler, a member of Ellis County Concerned Citizens and candidate for Ellis County Commissioner Precinct 3, says that the committee is fighting against the recent acquisition and would like more say in issues that could potentially effect the community.
However, Magnablend says that safety is the number one priority in going forward with the purchase and that they plan to maintain a relationship with committee and community members to address their concerns.
"We understand that the community has high expectations for us and we're committed to earning and keeping their trust," said Scott Pendery, CEO of Magnablend, in a recent newsletter.
Restoration and construction projects are expected to begin in the second quarter of 2012 and full scale operations are expected to begin in 2013.

Although the above ground facilities may once again serve a purpose, Dr. Schwitters says that he doesn't see a future for the miles of tunnel that rest beneath the Waxahachie soil.
For now and, most likely, forever, the citizens of this small town will go about their lives, with one of the biggest what-could-have-beens in scientific history right beneath their feet.