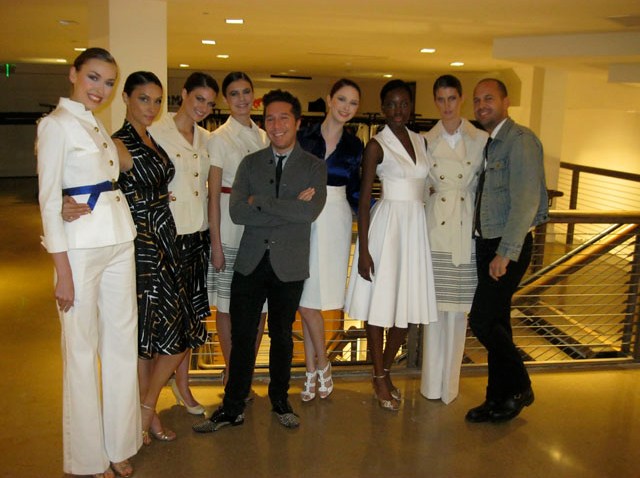 Ruffian's designers are a lot like the line itself - rakish, clever, sartorially skeptical, and rebellious in a refined way. Brian Wolk and Claude Morais were in town last night to show their Spring 2011 collection for the first time since it's New York debut at Lincoln Center. The self-professed Dallas-lovers were lovely enough to share a few minutes and a vodka tonic with us before the event.
Feelings on showing this collection at last month's Fashion Week?
BW: "The 'Frontline' collection - as we like to call it - was all about women like Susan Travers. She was the first woman to ever serve for the French Foreign Legion, and she drove an ambulance, had affairs, and was an original and a rebel. Just like a Ruffian girl! We opened the week which was cool, stressful, and exciting."
CM: I liked that the show pushed the idea of the pureness and importance of our specific textiles. That's what makes us different.
Anything from your Spring 2011 that you predict Dallas will adore?
CM: My favorite is the sheer, cap-sleeve dress that's cut satin made to look like camouflage; it's so gorgeous and sexy. All the boyfriends and men who've seen it love it on a woman."
BW: "High and low luxury is what we do, and on the high-side I think I could see the gold leather trench on our Dallas' girls, definitely. And there's a white, cotton dress that's really simple but that I'd like for Dallas."
Your Fall 2010 is currently on racks here at Stanley Korshak, what can we expect to find?
BW: "This collection was called 'Big Bang' for a reason; it's all about astrology, the universe, the stars."
CM: "We loved the idea of never-ending possibilities, and one of my favorite ideas that we incorporated was having our names worked into the lining fabric of the pieces, woven into the astrological signs that we fall under that are part of the printed silk."
What are your signs anyway?
BW: "Sag."
CM: "I'm a Capricorn."
So, Brian must have a birthday coming up then?
BW: "Yes! It's on December 2nd."
CM: "We're going to Paris because his birthday is also our anniversary, which is December 4th. The day we met. We always try to go to Paris for that time, but it's even more important this year because it's our tenth."
You've been real-life partners longer than you've even been business partners - Ruffian started in 2004. Who takes the lead, design-wise?
BW: "We both do everything. Seriously. It's completely collaborative."
CM: "Yes, that's true. I take his sketches and add-on, and we always tell each other what we'd change, what to we like, don't like."
That's pretty unusual for design teams, ever fight over creative differences?
CM: "Not really, actually over the clothes."
BW: "We fight all the time! But not really over work, more about stupid things like where we want to go to dinner. But I think you need conflict to keep the sparks alive, you know?"
Any one else's collections for Spring 2011 inspire you?
BW: "Hermes, just an unbelievably classic, stunning show to see."
CM: "Yes, Hermes was my favorite for sure. I also liked what Vuitton did that was very Asian-influenced."
You're on the road all the time, any favorite cities, hotels, shops?
CM: "Sunset Tower in Los Angeles; I want to move in there! I could live there. It's my absolute favorite, and Los Angeles is one of the best cities.
BW: And Paris, so much about Paris.
CM: I always shop at Kiliwatch in Paris. And in New York I shop at Amarcord.
BW: And the Paris Flea Market too."
What are your favorite Dallas spots?
BW: We always, always go to Manny's; we love it! And the vintage stores for clothes and antiques up and down Fairmount we always try to go."
CM: "Sammy's too, for lunch."
Staples that always make it into your travel wardrobe?
CM: "Skinny ties, white shirts, and one of my vintage Harley-Davidson tees that I buy all over. And pea coats when it's cold where we go."
BW: "Black, skinny Levi's. And hoodies."
Where is home for you originally and now?
BW: "I'm a New Yorker and still am. We live in Williamsburg."
CM: "Montreal; that's why the accent."
You designed your first menswear collection ever for Macy's this year. Are you wearing the pieces yourselves and how did that happen since you're famous for your women's collections?
BW: "Yes, the grey jacket I have on is our Threads and Heirs line for Macy's! It's more casual, the price point is accessible. Macy's approached us about this, and I'm so happy we took the menswear leap."
CM: "We designed a line of ties for Barney's once, before Ruffian even was around. So, I think Macy's knew we could do it well."
And as if you weren't busy enough, you're still working with Anthropologie for apparel and home?
BW: "Oh my god, the sheets we did for them. We found a box of love letters in the flea market in Paris, and we turned them into a cotton fabric for the sheets. So, you're literally sleeping in love."
CM: "Mise en Scene (the label's name in-store) is arriving now to the stores, and new things will keep coming through November. We love that our designs can be worn by so many more people now through Anthropologie."
What else is knew for Ruffian in the future?
BW: "Well, a new project, but it's under wraps at the moment. We won't be making announcements until February, but it will be crazy and totally different for us."
Hmmm, any hints about the new gig for your fashionable fans?
CM: "Who says it's fashion related?"
BW: "There's a big hint for you!"
You're working to reach a bigger audience with your work, are you social media junkies?
BW: "No! We just now got a Facebook page. But we don't love it."
CM: "We do Facebook, but barely."
BW: "But we are doing something cool with Lookbooks.com soon! Like, it may be launches tomorrow, but I'm not sure. We are doing a contest for the best Ruffian looks sent in by readers. Winners gets a pair of commissioned, Manolo Blahnik designed shoes that went down our Spring runway."
You had drinks recently with Lady Gaga after a New York concert; do you worship her like many designers do?
BW: "Well, I do like her, but she's not Madonna. Not yet, anyway. Let's see what she's doing in 10 years and then maybe."
CM: "Her concert was fabulous. She is really so, so nice and down-to-earth. We even got to meet he parents."
She's a fashion risk-taker; are you two anything like that? Can you recall something you've worn that you'd rather forget?
BW: "Mostly bad haircuts."
CM: "Not really, but maybe the experimental, Japanese things I wore in the late 80's. But I was a teenager!"
Wolk and Morais are in town until Saturday; their trunk show will be available at Stanley Korshak until then. Ruffian's Fall collection is on racks now at the store. You can also shop some of their thrown-together glam looks at Anthropologie and Macy's or purchase their book -- Ruffian: Inside Out -- at major book retailers everywhere.
See our gallery for all of last night's fun at the Modern Luxury and Stanley Korshak-sponsored party benefiting The Suicide and Crisis Center of North Texas in honor of Fresh Faces 2011.
Copyright FREEL - NBC Local Media