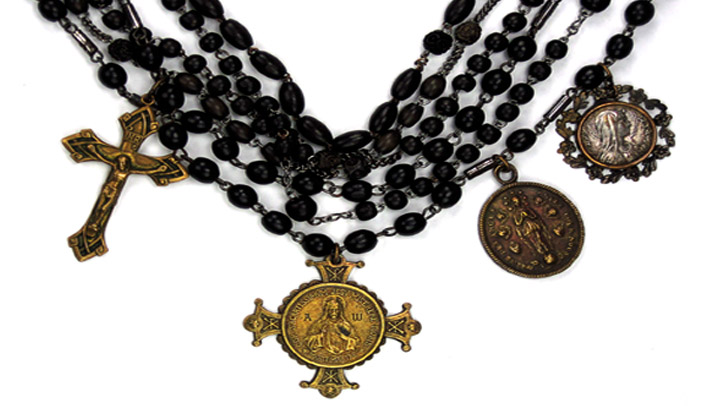 It's been fifteen years since the famed Dallas boutique Rue de Reves closed, but they're experiencing an amazing reincarnation in the form of newly launched jewelry label, Bella Rose.
Founded by the daughter-in-law of Rue de Reves founder, Margaret Morris, the exclusive line of handcrafted pieces from Tami Morris is inspired by the exceptional European collections once carried by the boutique as well as vintage jewels and holy medals that belonged to Morris' late mother.
The museum-quality jewelry incorporates either medals from her mother's collection or vintage medals of European origin, many over a century old. Tami's sister, Katy Palermo, partners with her to create the one-of-a-kind nostalgic pieces, and with Bella Rose, they've created a tribute to family in more ways than one since the line takes it's name from Tami's two daughters.
Like Rue de Reves, who once boasted celebrity clientele like Connie Francis and Priscilla Presley (her character's boutique on television show, "Dallas," was filmed in the shop), Bella Rose already has famous fans like Johnny Depp, Jon Bon Jovi, and Anne Rice taking notice.
But even if you're not one of Hollywood's elite, Bella Rose will help you turn jewels or medals from your own family treasure trove into heirlooms. Tami accepts commissioned projects from clients seeking to give new life to keepsakes from within their own families.
Shop Bella Rose now at SWAG in Northpark Center, or check out their Facebook page for more information and additional stockists.
Copyright FREEL - NBC Local Media