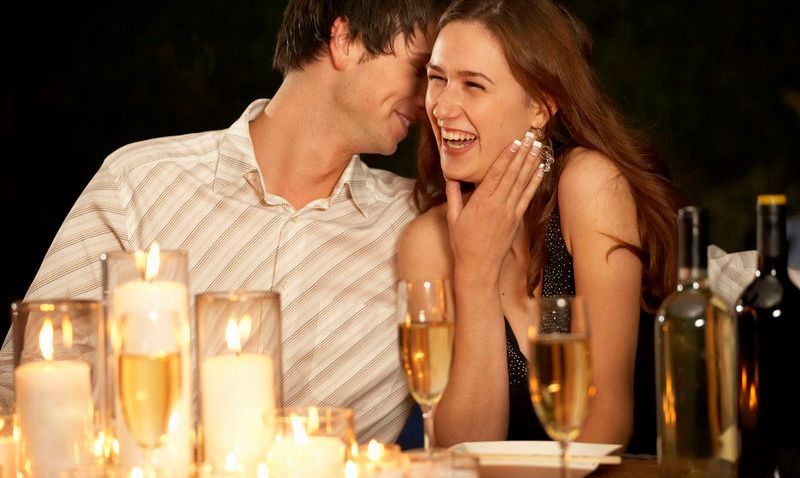 Once you have the flowers, card, and gift checked off your list, the next thing you should ask for is the check.
The best way to romanticize your Valentine is by making the right reservations. Don't bother stressing about finding the best Valentine's Day restaurant menus, specials, and romantic atmosphere in the Metroplex, we've already found them for you. The only thing you have to do is make the reservations, so you can eat your heart out.
Lanny's Kitchen: For refined cuisine in the Museum District, Alta Cocina Mexicana offers a five course meal that includes goat cheese amuse, lobster or rabbit loin tapas, prime rib-eye or sea bass for entrees, several dessert options, to end with chocolate strawberry truffles for $95 a person. Lanny's is located at 3405 W 7th Street, Fort Worth, TX. Call 817-850-9996 for reservations.
Dallas:
Sevy's Grill: With a contemporary atmosphere, Sevy's will pamper your sweetheart with a three-course menu that includes Scallops, Lobster, Tenderloin, Godiva Chocolate, and many more options for $54. 95 per person plus tax and gratuity. Sevy's is located at 8201 Preston Rd, Dallas, TX. Call 214-265-7389 for reservations.
eatZi's Market & Bakery: Surprise your Valentine with reservations at home with eatZi's dinner for two four course menu that includes, salmon and caviar, fresh herb salad, vegetables and potatoes served with either lobster or petite fillets, topped off with a heart-shaped chocolate cherry tart all for $99.99. Order online, or call 214-526-1515, and pick up at 3403 Oak Lawn Ave, Dallas, TX.
Nana: Named one of the "Top Ten Romantic Restaurants in America," Nana at the Hilton Anatole, by ForbesTraveler.com, Nana will be a sure place to please your Valentine with a four course dinner that include options like Seared Hudson Valley Foie Gras, Seared Half Maine Lobster, Rack of Colorado Lamb, and "Cheese Cake" with Mango Sorbet and Mojito Coulis. For $85 per person plus tax and gratuity, call 217-761-7470 for reservations. Nana is located at 2201 Stemmons Freeway, Dallas, TX.
Hibashi: For a dynamic Japanese experience, Hibashi offers a sushi and teppan Valentines Day menu. Enjoy baby octopus salad and a lover platter that includes sashimi, sushi, and a valentine special roll from the sushi bar for $60 a couple or the cupid combo that comes with egg rolls, fried rice, shrimp, or fillet mignon from the tapan side for $75 a couple. For reservations call 972-620-3474, 13465 Inwood Rd, Dallas, TX.
Keith & Margo's Murder Mysteries of Texas: Try something new, and solve this love mystery with a fun experience that includes dinner, one drink ticket, a cash bar, professional comedic actors, light hearted satirical mystery stage play with a 1950s theme, a homicide detective to guide you, and dancing. The Menu includes hors d'oeuvres, salad, New York Strip or (Vegetarian option), and Chocolate Marquis Cakes. The show is on Feb. 13 from 7 to 11:30 p.m. at the Omni Dallas Hotel at Park West 1590 LBJ Freeway at Luna Rd in Dallas, TX. Call for tickets $94 per person at 972-869-4300.
Steel: For a contemporary chic atmosphere featuring Indochine cuisine, woo your lover with Steel's romantic three-course menu featuring sushi rolls, crab cakes, Bali lamb satay, Chilean Sea Bass, Pan Seared Duck, and chocolate volcano cake plus much more for $65 per person. Call for reservations at 214-219-9908. Steel is located at 3102 Oak Lawn Ave. Dallas, TX.
Zen Sushi: If you really want to impress your loved one, take her to Zen Sushi for a premium and thoughtfully crafted six course meal featuring smoked apple bacon, asari clams, kumamoto oysters, sushi, lobster tails, beef tenderloin and crème brulee available Valentine's Day weekend for $169 per couple. Call 214-946-9699 for reservations. Zen Sushi is located at 380 W. 7th Street, Dallas, TX.
Grapevine:
Grapevine Wine Trail: If you're a wine enthusiasts and a romantic, find your way down this trail for three tastings at eight grapevine wineries, food samplings at each winery, one large crystal wine glass, and a premium bottle of Texas wine. For advance $45 tickets per person or $50 at the door, call Cross Timbers Winery 817-488-6789. The trail is open on Feb. 13 and 14 from 11 a.m. to 5 p.m.
Looking for more to do this Valentine's Day? Click here for our events calendar.