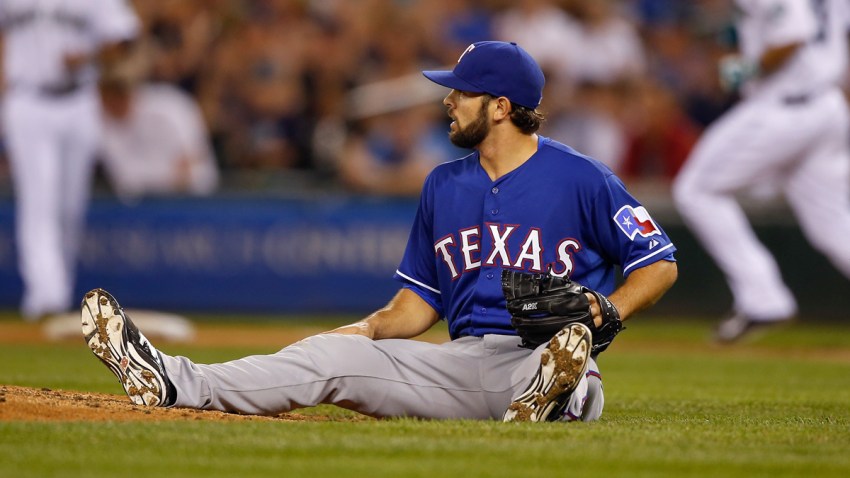 So last night I turned on the Rangers to see if Ron Washington still had his team competing. But in the 1st inning Nick Martinez gave up a towering two-run homer to Robinson Cano and, honestly, that was the ball game.
Sure the Rangers appear to still be playing hard. But with their dreadfully punchless offense, even two-run deficits seem monumental. It was Mariners' rookie James Paxton that handcuffed Texas on Tuesday, shutting them out 5-0.
While Martinez joined Derek Holland as the only Rangers' rookies to lose 10 games in the last 25 years, it was again the bats to blame for loss No. 80.
The Rangers managed just four hits and failed to score a run, continuing a hapless stretch in which they've failed to score five runs in 13 of their last 14 games. In other words, the days of the Rangers' offense winning games 10-8 are long, long gone.
Martinez had given up four runs last night by the 5th inning, signaling certain doom.
On June 16 the Rangers beat the A's 14-8 to improve to 35-35. Since then they have gone a horrendous 16-45. Never in those 16 wins did their opponent score five runs, and the opponent's average runs per game is only 1.68. Only twice in those 16 wins did the other team reach four runs.
What it means is that for two and half months the Rangers haven't won a game in which they've allowed five runs. Remarkable.
A native Texan who was born in Duncanville and graduated from UT-Arlington, Richie Whitt has been a mainstay in the Metroplex media since 1986. He's held prominent roles on all media platforms including newspaper (Fort Worth Star-Telegram, Dallas Observer), radio (105.3 The Fan) and TV (co-host on TXA 21 and numerous guest appearances, including NBC 5). He currently lives in McKinney with his wife, Sybil, and two very spoiled dogs.
Copyright FREEL - NBC Local Media