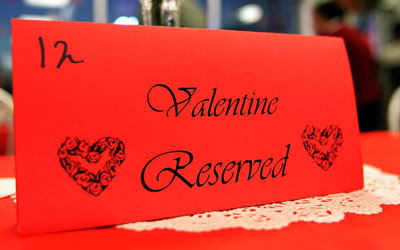 Valentine's Day procrastinors headed to the flower shops and restaurants early on Saturday.

Florists were prepared for a packed house, making extra flower arrangements to keep for last-minute shoppers.

"I
t's Valentine's day, so they'll probably just want to drive up, grab something and go,
" says Gaye Gardner of A Cottage Florist in Irving. "We're also doing a little bargaining today, offering little discounts, to help them out and get our flowers moved, so it kind of helps them, helps us."

Because Valentine's Day fell on Saturday this year, many restaurants have been booked solid for weeks.

"We have plenty of seats at the bar and in our cocktail area, for people to sit and relax and wait for a table to open up for them," says Reata Restaurant's Assistant General Manager, Russell Kirpatrick, "but generally, about 90 percent of the business will be reservations."

For those who didn't make reservations or plan in advance, a Valentine's Day lunch was easier to come by, and better on the pocketbook.

"Generally, on a Valentine's Day, it's the calm before the storm, during a lunch shift. Today is a little different." Kirpatrick says. "I think people, with the economy and the uncertainty out there, they're trying to take advantage of the Valentine's Day experience during lunch where they can get the same great food, great service, at a discount."