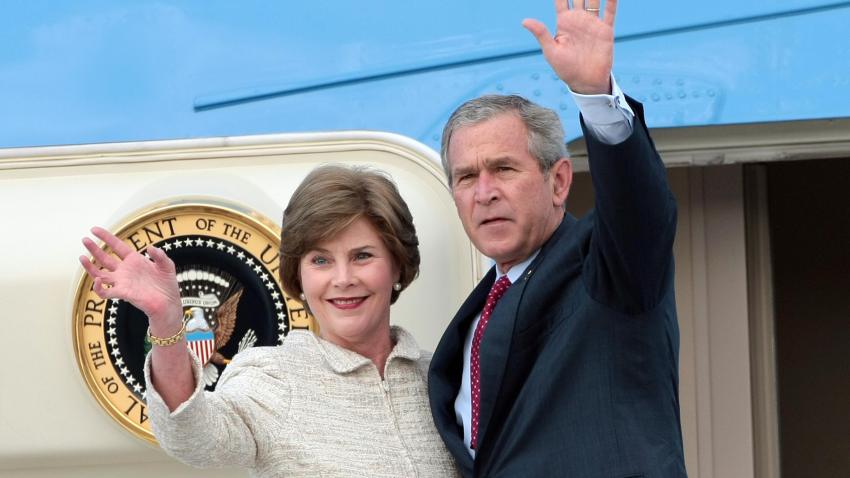 Dec. 4, 11:48 a.m. update:
The office of the first lady just released the following statement:
"The President and Mrs. Bush have purchased a home in the Preston Hollow neighborhood in Dallas, Texas, where they will live after the President leaves office in January 2009. They will continue to spend time at Prairie Chapel Ranch in Crawford, Texas.
The President and Mrs. Bush do not have occupancy of the home, and therefore, no additional details will be provided.
The Bushes previously lived in Dallas from December 1988 through January 1995, before moving to the Texas Governor's Mansion in Austin, Texas. "
The Bushes tell NBC News that they have bought a house in the Preston Hollow section of Dallas. The sellers are still occupying the house, so they have not taken possession of the house yet.
"It would be very great idea here, cause it's very private property, it's away from everybody," said Gus Hamed, with NGH Construction, who are renovating a house near where the Bushes were looking.
At first glance, the home appears to look a lot like the Bushes ranch in nearby Crawford .
"Its got a huge back yard, lots of trees, it's all fenced off there in the back so shouldn't have any problem with privacy back there," said Todd Smith, land surveyor.
The home sits on the end of a very private cul-de-sac and is bordered by estate properties and a creek, right behind the estate of billionaire Tom Hicks who owns the Texas Rangers and Dallas Stars.
The real estate listing lists the 4,684 square foot home at $1,679,900.
The home was built in 1956 and has been in the same family since it was built.
The home right next door is currently being renovated, and another house two doors away was recently torn down and replaced with a new mansion.
While McDonough would neither confirm or deny that this is their new home, she did ask NBC 5 "not to bother the President's potential neighbors."
Neighbors, who won't go on camera, told NBC 5, they think the Bushes may actually be buying, or at least moving into, the much newer and bigger house next door.
It was recently purchased by someone in Midland.
Update, December 4th:
D Magazine's Dallas Dirt blog has more details about the much-rumored move of President George W. Bush to Preston Hollow. Much of their information falls directly in line with what NBC 5 was able to dig up about the properties possible new owners, though they present an interesting theory: the Bushes may buy both the house we've mentioned above and the next door property currently unoccupied.