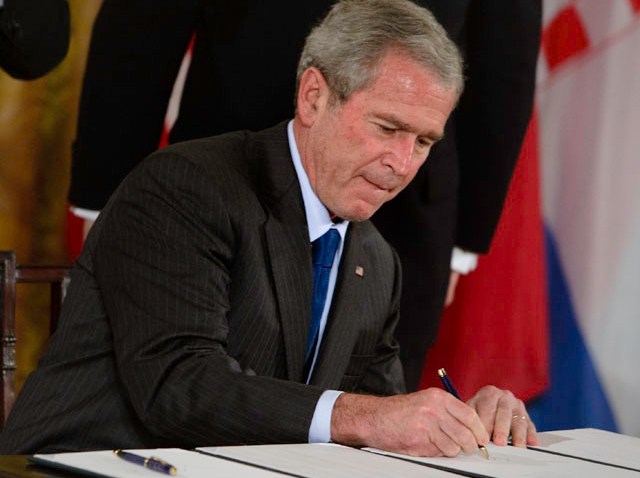 President George W. Bush, perhaps best known for throwing out the first pitch before Game 4 of this year's World Series, put it all down on paper in his autobiography, "Decision Points," and area residents can pick up a copy for a few dead presidents Tuesday morning when the author signs copies of the book at Borders bookstore at Preston Road and Royal Lane in Dallas.
Publicists billed the book as "gripping blah-blah, extraordinary blah-blah" and no doubt it might just be a little cringe-worthy in a few places … such as New Orleans … Baghdad … Kabul ….
But I kid ol' Georgie. We go way back.
The serious part is getting in to tomorrow's really big show. Customers need to show up early to clear Secret Service scans — really, the cavity searches are just their way of saying, "Hi" — and receive first-come first-served wristbands for the privilege of buying said book.
And in the interest of open records, according to a press release, "Media will be permitted to cover the top of the book signing only." What does that mean?
Anyway, go on out and tell Dubya I said hello. He'll remember. No, he probably won't.
Bruce Felps owns and operates East Dallas Times, an online community news outlet serving the White Rock Lake area. He prefers nonfiction.

Copyright FREEL - NBC Local Media