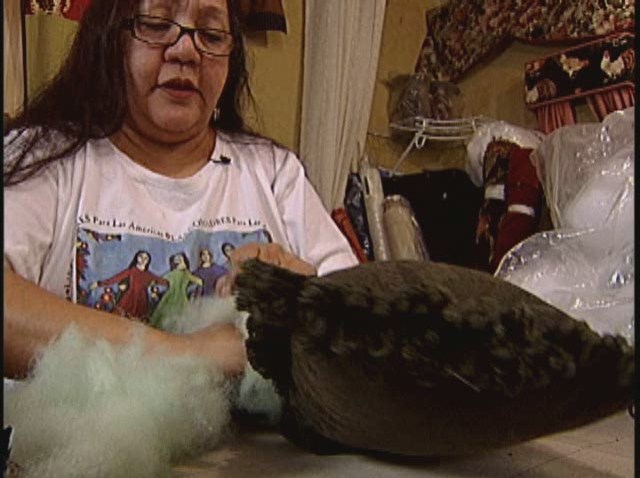 In her spare time, Plano resident and drapery designer Diana Lopez Axthelm works on a project that few people know about. Using scraps of fabric, and pieces of used military uniforms, she diligently stitches and stuffs small tokens of her respect.
"I just feel so honored, that they made a choice," Axthelm said. "They could have had another job. But they chose this job."
Axthelm calls her hand-made projects "Remember-Me-Pillows." They are intended to honor service men and women from across the country who've made the ultimate sacrifice. She puts her heart and soul into each one.
"Each one is unique," she said. "It's unique to the individual who it belonged to. Not one is the same as the other."
She finds the names of people killed in action in newspaper articles or on the Internet, then orders name tags for them from the Joint Reserve base. She makes sure each name is spelled correctly, and that fabric, insignia and even the color of the stitches is true to each person's rank and military branch.
She sends the pillows anonymously to their families, military units or churches -- whatever information she can find.
In her home workshop Axthelm displayed her latest projects. One was a pillow for Army Pvt. Byron Fouty of Michigan, who was abducted and killed by insurgents in Iraq another one was for 1st Lt. Phillip Neel of Fredericksburg, Tex, who died after a grenade attack.
"I like doing these, because I feel that the individual parent or the husband or wife that gets this, they will always have something to remember their loved one by," Axthelm said.
On her recently-created "Remember-Me-Pillows" Web site, Axthelm writes that the pillows are made with fabrics from military uniforms and designer remnants. She will cut the sleeves, pockets and sides of the uniforms and incorporate them into the design, then use coordinating fabrics to complete each project. No two are alike.
"I'm not charging them or anything," she said. "No one knows about where they got this from. That's not much to do compared to what they have done for me to be in this country, to be safe."
Axthelm has completed about 100 pillows since 2003. She can still be moved to tears while she is working.
"If this is all I can do, then at least I did something for my fellow country man," she said.