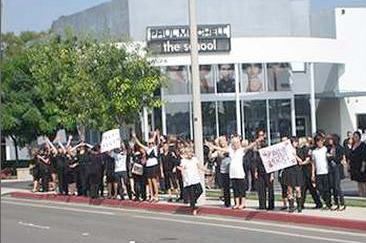 Yesterday marked the first-annual National Hugs Day by Paul Mitchell, and the Dallas partner school, Cosmetology Career Center, has sent an army of stylists-in-training down to the West End to dispense.
Thankfully, the participation of styling trainees at Paul Mitchell schools nationwide in the official day to go out in public and offer free hugs to anyone and everyone was not compulsory. The affectionate crew that signed up from Dallas' CCC got passes from class and headed out to, hopefully, brighten someone's day with a free hug.
"As members of the beauty industry, we're in the business of helping people look beautiful," said Paul Mitchell Schools Dean and Co-founder Winn Claybaugh. "More important, it's part of our 'be nice' culture to help people feel beautiful. Our Free Hugs campaign is just one of the many ways our Future Professionals show their passion and compassion in their local communities."
As long as they're not wielding scissors, we say, spread the love.
Copyright FREEL - NBC Local Media