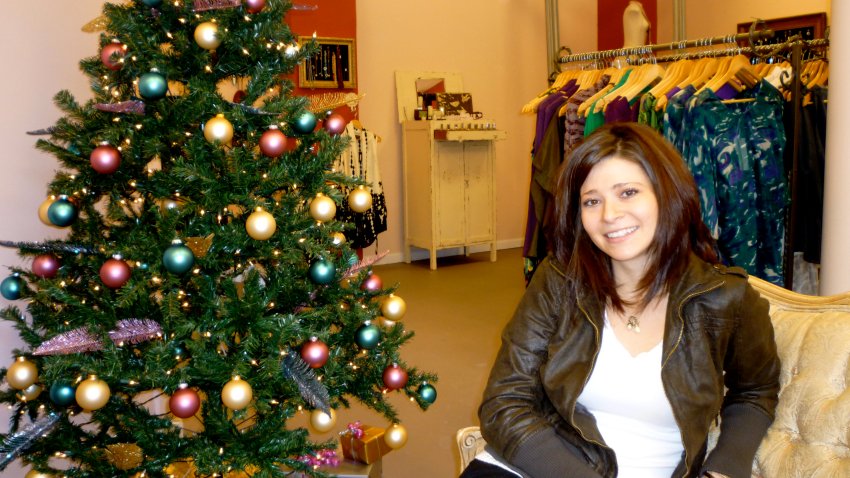 Frocks
15645 Quorum Dr., Addison
972-661-3399


Ashley Omessi envisioned her new Addison Circle boutique, Frocks, as a place where shoppers could snap up the latest trends without breaking the bank. Just 26 herself, this entrepreneur knows more than a little about making ends meet as a young career woman. With experience in both the sales and corporate ends of the retail industry, Omessi is scouting out "smaller, lesser-known" lines in an effort to give her clients high style at a lower price.

On a recent trip to Frocks, we fell in lust with a smooth-as-silk black party dress by C. Luce adorned with a detachable beaded necklace for just $65. We also spotted a bomber-style jacket with faux fur lining by Murmur for only $62 (see it on the owner herself, above). Tees, jeans and jewelry were also quite tempting. As Omessi says, "There's something for everyone."

Verso
4631 Insurance Rd., Dallas
(In the Rising Gallery)
214-683-1369

Shop for a cause at this hidden gem we spotted down a side street off Knox. Charity-related items are the key at Verso, including tops by Signorelli, designed to support a different worthwhile organization each season. Also featured are numerous items from the A.M.E.N. Initiative, including colorful tops, bags and appliquéd jeans. Each purchase furthers the group's mission to provide much-needed jobs in Sierra Leone.

The tiny shotgun shop is a tight fit, but Verso keeps it stylish with pebble-paved floors and exposed brick walls. Love the glittered trees hung with jewelry and candy canes for the holidays, too! Stop in now and you'll also find all regular dresses on sale for 20-60 percent off.

We Are 1976
1902 N. Henderson Ave., Dallas

214-821-1976

Next door to Pearl Cup on lower Henderson is a brand-new shop with a style all its own. Less than a month old, We Are 1976 is the brainchild of partners Vynsie, Jully and Derek Law. Their website proclaims, "1976 was a year of revolutionary change" and the store celebrates that independent spirit through a collection of unique gift items by local and international designers.

Sounds intense, but in reality We Are 1976 is whimsical and inviting – like a grown-up toy store. From tea sets to tableware to offbeat books, you're sure to find something here you can't live without. Particularly fun are handmade fortune cookie pillows ($35) and canvas totes by Magnificent Beard ($17) printed with pretty blue birds or (yikes!) scary red axes.

Still Haute!
214-289-9042

If the idea of shopping for designer vintage clothing from the comfort of your couch sounds like a dream come true, Still Haute!'s the store for you. Launched just last month, this new online boutique is the product of five friends' love of fashion and their desire to match high-quality pieces with new loving homes.

Tamara Mattison, Judy Coyle, Melissa Lewis, Harriet Kelly and Jana McAnally (above, left to right) have amassed a collection of over 400 resale pieces so far. Designers represented include Betsey Johnson, Lilly Pulitzer, Armani and Kenneth Cole. As an added bonus, Kelly, a stylist by trade, can assist clients with putting together complete looks with these vintage treasures. A physical storefront may come in the future, but for now you can shop to your heart's content online or at frequent Still Haute! events and parties.
Copyright FREEL - NBC Local Media