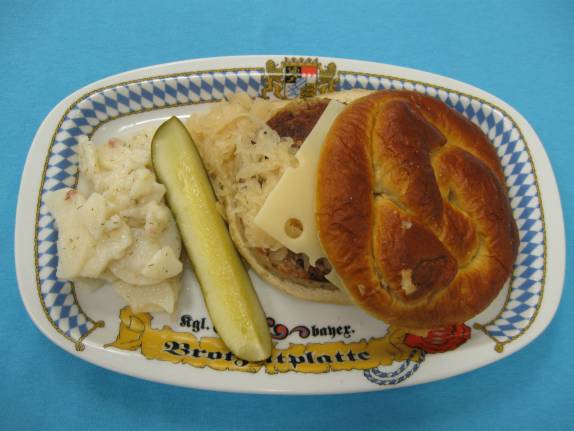 Bratwurst burger on Pretzel bun with Sauerkraut and Swiss cheese

Bavarian sauerkraut
1 /2 yellow onion sliced
5 strips of double smoked bacon diced (regular bacon thick cut bacon will do)
1 bays leafs
10 juniper berries crushed
Salt and pepper to taste
1 can of German sauerkraut (regular sauerkraut from you local Grocer will do)
1 teas spoon of toasted caraway seed's

Drain sauerkraut from jar, start sautéing the bacon with the onions in olive oil until golden brown.
Add drained sauerkraut with 1 cup of water;
Add juniper berries, bay leaf and toasted caraway seeds, let cook for 30 minutes on low, salt and pepper to taste
Dispose of the bay leaf before serving.

Bratwurst burger assembly
1 bratwurst burger (from Siegi's available from Germandeli .com)
1 pretzel bun (available at Germandeli.com or Texas Pretzel Company)
1 slice Swiss cheese
Crisp pickle
Sweet Bavarian mustard or Dijon mustard

Grill the bratwurst burger until golden brown, place in pretzel bun
Top with hot sauerkraut and Swiss cheese
Serve with crisp pickle and potato salad

Guten Appetite!