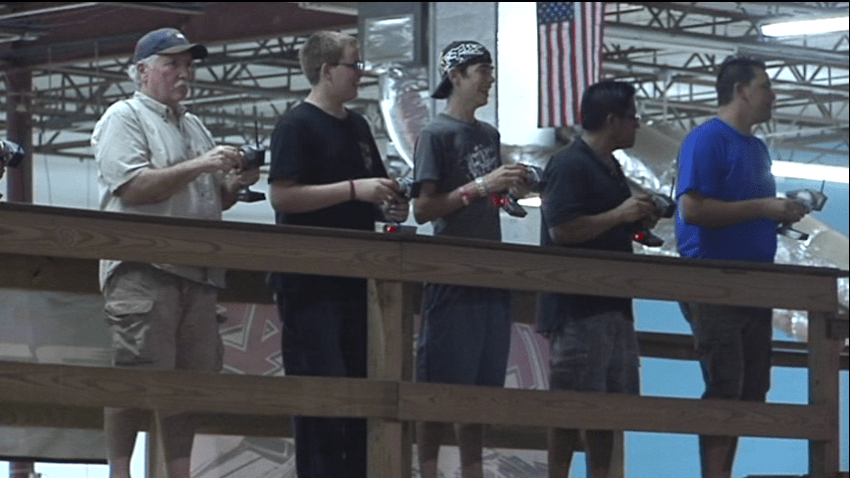 If you think radio-remote-controlled cars are just for kids, wait until you find out what these adults are playing with.
Mike's Hobby Shop in Carrollton hosts two RC races a week -- and they're not as easy as child's play.
"As far as wild, it can get a little bit out of control depending on who breaks whose truck and who didn't win that night," said racer David Watkins.
At Mike's Hobby Shop frustration behind the wheel isn't over a commute, but rather competition.
"First turn is pretty much mayhem. If you can make it out of the first corner in one piece you're alright," said racer Bjay Barnhart.
There are seven tracks including dirt, cloth, an outdoor dirt track, one for rock crawling, and even an airplane and helicopter flying course.
"We pride ourselves on saying we are the largest in the United States. We are the largest single facility. There are a few tracks that are bigger than us, but they don't have every type of track. We offer all the venues to race on," said owner Mike Darnell.
The hobby shop and warehouse are his life.
"My mom and dad started this hobby shop 27 years ago just kind of on a whim. Mom was out of town and Dad and I decided we needed something to do so we opened up a hobby shop and that was the start of it," said Darnell.
If you haven't figured it out by now, this hobby is intense.
"These are finely tuned machines. They see this and see the guys, they're racing and jumping them over big jumps on the track and crashing them and they are not coming apart," said Darnell.
Some of the people are so professional with their hobby, they lease offices from Darnell in the building that they turn into a micro-garage.
"When we go in there you'll see that we have a lot of junk in there," said Bill Darnell who is known as "Wild Bill" because of the way he races.
The racers tend to their RC cars just as they would the ones they drove themselves in.
"Oh, I work on these a lot more than my real cars...and I'm a mechanic," said Wild Bill.
Buying a new car or building one from frame up isn't cheap.
"We'll each car is like a thousand bucks. I now I probably got ten grand in here easy. And that's just me and that corner. My buddy here he probably has another eight grand and probably another four or five where you're standing," said Wild Bill.
The office/micro-garage also has what's really important -- a microwave and fridge full of beer.
The racers say the experience never gets old.
"We've probably only been doing it 6-8 months total. Yeah, there are some people who've been doing it all their lives you know 10-15 years. It's where it's at," said Barnhart.
That reaction is exactly why Darnell is here.
"If I was retired, I would go stir crazy. If I retired, I would be bored to death. I'd probably stay retired for two weeks and then have to go to someone else's track or airplane field, get my fix and my fill of it," said Darnell. "But the family atmosphere that we have created here is the biggest thing that I enjoy doing."
While the track is home to crashes and competition, it's also a place of camaraderie.
"We accommodate all types of drivers. We have young drivers. We have old drivers. We have handicap drivers who have found this hobby as something they can do. They can participate in any level flying model airplanes or even racing cars. We built a ramp on our drivers' area to accommodate our wheelchair bound drivers," said Darnell.
14-year-old Devin Henry races here whenever he can.
"I'm a little person and like a really rare form. My legs are deformed and don't really work right.," said Henry. Henry says he's never been one to let challenges cut him off.
"I'm pretty stubborn, so I do what I want," said Henry.
It's that energy and enthusiasm that fuels Darnell.
"It's a good feeling. It means you're doing something for the community. I've contributed my part. Makes me feel great," said Darnell.
Mike's Hobby Shop
1201 N. I-35E
Carrollton, TX 75006
(972) 242-4930
www.mikeshobbyshop.com