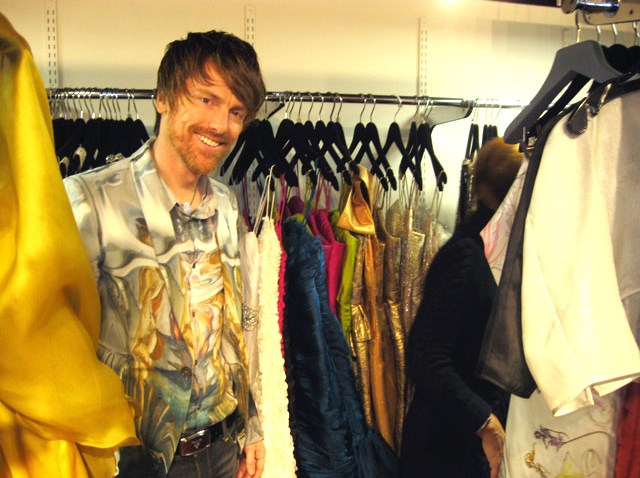 New label THEIA was named after the Greek Goddess of Light, and no doubt she would have smiled on designer and founder Don O'Neill. His warm presence is not unlike the ethereal dresses and gowns he creates, and we were giddy to have the chance to check out his Spring 2011 line and chat with the charming Irishman himself.

The idea behind the name THEIA comes from a pretty lofty mythological figure, anyone closer to you that's particularly inspirational?
"My sister, Dierdre. She is so incredibly beautiful and doesn't even know it. That type of woman is my muse - the girl who doesn't see herself as gorgeous though she truly is. That's the reason I design, because to see a woman light up in my dress and feel special and lovely is the most fulfilling thing I've experienced. And Dierdre surely must be the only dairy farmer's wife in Ireland with racks of cocktail clothes to wear to the pub."

I want to talk more about the Spring 2011 collection, but first, I'm dying to know; is it true that THEIA is doing bridal for a beyond awesome price point, as in dresses under $1,000?
"Yes! And we made New York Weddings' Top 10 list following Bridal Fashion Week. Our gowns were categorized with Oscar de la Renta and Monique Lhuillier; I was blown away. My favorite of the collection is very simple, seaside-inspired gown in organza and cut satin for $995."

What else do you adore from your Spring 2011 and what do you think Dallas will fall for?
"The short, simple sheath dress in white that's covered in crystal detail; it just glows when you have it on, and I envision it on a Dallas girl. The women here like to stand out and this dress is a show stopper. I also love that Dallas women aren't afraid of color, and I think my pastel and more vibrant florals will be well loved."

Let's talk styling with your dresses; anything you love to see women do to compliment your creations?
"Louboutin heels, as high as you feel comfortable in. There's nothing more seductive than a woman who wears heels well. And I like statement earrings with my dresses as well."

Where do you find memorable from your visits to Dallas?
"Oh my god, we had the best meal at Fearing's last night. I tried antelope for the first time; amazing. And I actually accidentally met Dean Fearing in the elevator earlier in the day when he complimented my suit. What an incredible chef he is."

Where do your travels take you next?
"Well I'll be in Dallas again Dec. 9 for a trunk show and runway show in collaboration with Stanley Korshak and the ballet company. I'm so thrilled and flattered to be a part of that. And I'm vacationing in South America, Guadeloupe specifically, over the holidays; it's a very special time and trip because my partner just received his green card after 14 years."

Lastly, what are you wearing right now? That coat is gorgeous.
"It's Alexander McQueen. I just loved his things and will miss his vision terribly. He knew exactly how to do color and pattern for men's wear."

We want one of his cocktail pieces immediately if not sooner. And were not alone; THEIA followers include Carrie Underwood and Emmy Rossum. Shop the label locally at Stanley Korshak, Neiman Marcus, or Tootsie's.
Copyright FREEL - NBC Local Media