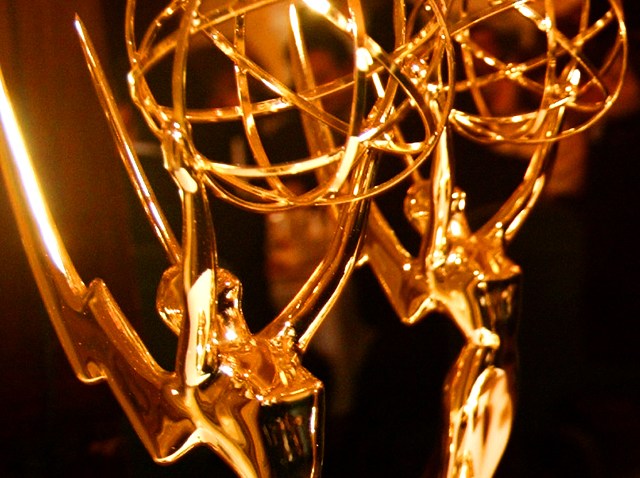 Dallas/Fort Worth (Oct. 20, 2009) – The Lone Star Chapter of the National Academy of Television Arts and Sciences recognized the accomplishments of NBC 5 / KXAS-TV with 11 Emmy awards during its 7th annual event on Saturday, Oct. 17, 2009, in Dallas.
NBC 5 Today at 6 a.m. took top morning newscast honors. NBC 5 Today is anchored by North Texas favorites Brendan Higgins, Deborah Ferguson, Meteorologist Jennifer Lopez and traffic expert Tammy Dombeck.
Nada Ruddock, NBC 5 director of community affairs, received the community service Emmy for her work in promoting the 2009 Komen Race for the Cure.
"There's a team of folks working very hard each day to bring relevant news and information to DFW area viewers and it's rewarding to have a prestigious organization like the Emmy's recognize this," says NBC 5 president and general manager Tom Ehlmann.
NBC 5 2009 Lone Star Emmy recipients:
NEWSCAST – MORNING / DAYTIME - LARGER MARKETS (1-25)
"NBC 5 Today"
Alisha LeBrun, Producer
COMMUNITY SERVICE
'Komen Race For The Cure 2009"
Nada Ruddock, Director of Community Affairs and Producer
FEATURE NEWS REPORT - SERIOUS FEATURE / SERIES
'A Game of Hope "
Matt Barrie, Producer/Reporter
Noah Bullard, Producer/Photographer
SPECIALTY ASSIGNMENT REPORT – PROGRAM / SPECIAL / FEATURE / SEGMENT
"Spotlight: Cleared By DNA "
Reginald Hardwick, Producer
Kristi Nelson, Anchor/Reporter
PROMOTION - NEWS PROMO - SINGLE SPOT
"2008 Year Ender"
Steve Lemonds, Shooter/Editor
Ted Nekic, Producer
Larry Watzman, Executive Producer
Kristal Williams, Art Director
DIRECTOR - POST-PRODUCTION / SHORT FORM (PROMOS, PSAS, COMMERCIALS, OPENS, ETC.)
Directing Excellence 2008
Ted Nekic, Director
Dwight Vasel, Director
Larry Watzman, Director
DIRECTOR - TECHNICAL DIRECTOR
NBC 5 Today at 6 Composite
Marc Mahacek, Technical Director
EDITOR - SHORT FORM (PROMOS, PSAS, COMMERCIALS, OPENS, ETC.)
Excellence in Editing 2008
Steve Kampen, Editor
Steve Lemonds, Editor
Dwight Vasel, Editor
ON-CAMERA TALENT - REPORTER - SPORTS
"Don't Barrie My Stories "
Matt Barrie, Reporter
PHOTOGRAPHER - SPORTS (SINGLE CAMERA ONLY)
"Noah's Art "
Noah Bullard, Photographer
WRITER – NEWS
"Beijing Bound"
Brian Curtis, Writer/Reporter