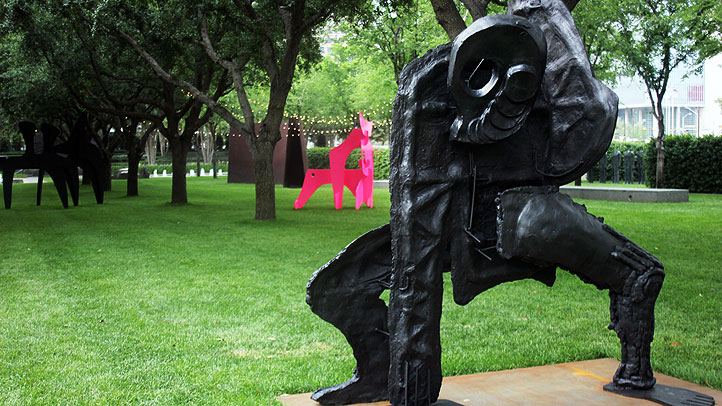 Not your garden-variety garden -- The Nasher Sculpture Center's Statuesque exhibit allows locals to enjoy the weather while admiring extraordinary large-scale art in a garden setting.
Ten striking statues are presented throughout the center's 1.4-acre imaginative landscape located in the Arts District of north downtown Dallas. Each larger-than-life piece varies in sculptural form and texture but they all share a visually playful abstraction that can be called -- dare we say it -- fantastical.
The Nasher has displayed contemporary art since 2003. Statuesque, the center's first outdoor exhibition, unites the creations of six international artists: Pawel Althamer, Huma Bhabha, Aaron Curry, Thomas Houseago, Matthew Monahan and Rebecca Warren. Their artistic inspirations range from Ancient Egyptian and African sculpture to works by Michelangelo and Picasso.
Public Art Fund's Director and Chief Curator Nicholas Baume, who has called the art "complex, dazzling and confronting", brought Statuesque to Dallas from Lower Manhattan's City Hall Park where it was exhibited last year.
"We are very happy to add the Nasher Sculpture Center Garden to our repertoire of exhibition venues," said Nasher Sculpture Center director, Jeremy Strick in a press release. "Its artists make work profoundly influenced by the modern masters represented in the Nasher collection."
Statuesque continues through August 21. The Nasher Sculpture Center is open from 11 a.m. to 5 p.m. Tuesday through Sunday. Admission is $5 to $10. Please visit their website for tickets and more information.
document.write(
s.prop22
+" by "+s.prop38);