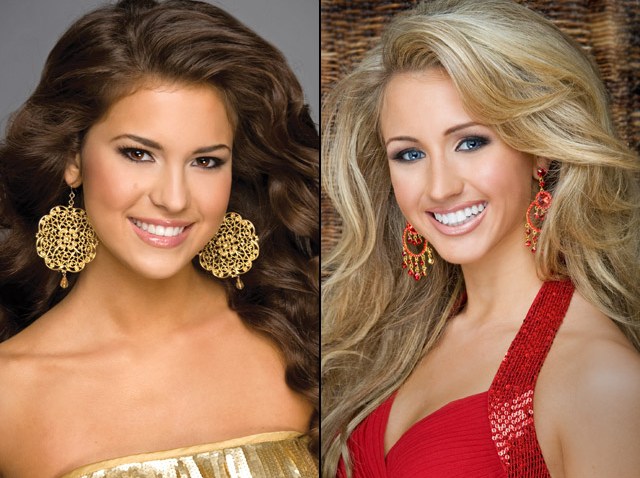 120 teenage girls from across Texas will spend Thanksgiving weekend walking the walk and talking the talk in Houston.
Miss Texas Teen USA 2011 will be crowned on Sunday after two days of competition at the Hilton Post Oak.
Haley Spathias, 17 of Arlington Heights High School will compete as Miss Dallas Teen USA, while BreAnna Young, 17, of Southlake Carroll Hugh School will compete as Miss Fort Worth Teen USA.
Spathias is no stranger to the pageant, last year she was in the Top 15. Young has been competing in pageants since she was 14.
Miss Texas Teen USA 2010 Chelsea Morgensen will crown her successor on Sunday, the winner will go on to the national Miss Teen USA pageant in the Spring or Summer of 2011.
The pageant features young ladies ages 14-18, and could be considered a precursor for Miss Texas USA, which ultimately leads to Donald Trump's Miss USA and Miss Universe pageant (shown on NBC).
Miss Texas USA 2011 has already been crowned, Miss Central Laredo USA Ana Rodriguez, 24, was crowned in September. She'll compete in the Miss USA 2011 pageant in spring of 2011.
Click here to see all the Miss Texas USA contestants
Other Texas Pageants
Pageant lovers will be happy to know the new Miss Dallas 2011 is Candace Bennatt, a student at Sam Houston State University. Bennatt beat 19 young ladies to take home the crown on Nov. 21.
Meanwhile, Christa Widjaja, a student at Hebron High School in Carrollton was crowned the New Miss Dallas Outstanding Teen 2011 from among 10 teen contestants.
Miss Fort Worth 2011, Meghan Miller, and Miss Teen Fort Worth 2011, Destiny Velez, were crowned on Nov. 20. Miller is a graduate of the University of Texas, while Velez attending Winfree Academy.
Also being crowned this weekend, Miss and Miss Teen Arlington, Miss and Miss Teen Duncanville, and Miss and Miss Teen Ellis County.
The winners of all of the state scholarship pageants will compete in the Miss Texas 2011 and Miss Teen Texas 2011 pageants in Arlington in July.
Miss Texas and Miss Teen Texas lead to the Miss America scholarship pageant and Miss America's Outstanding Teen pageants respectively.
Miss Texas 2010, Ashley Melnick of Southlake, will compete in the Miss America pageant, the winner will be crowned on Jan. 15, 2011.
Confused yet? Just know that Texas is home to a lot of beautiful women.