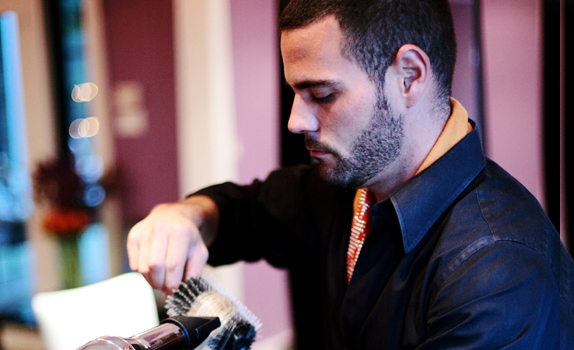 You're gonna need a new nickname, Shaggy.

From quick clip shops to guy-centric salons, the men's grooming sector is booming. With more man-scaping choices than ever before, there's no excuse not to look your very best. Read on for our rundown of the main Metroplex contenders.

Oh, and you can tell your girlfriend we said "You're welcome."
The Boardroom Salon for Men
Multiple area locations
Basic Cut: $35

All dark woods and leather, The Boardroom aims to send its clients "back to an earlier, elegant era". Hot lather shaves, massages and facials are all on the menu here, and a complimentary beverage is included with each service.

FACE for Men

3000 Blackburn St., #190, Dallas

Basic Cut: $50

Featured among our top ways to Refresh in DFW, this West Village spot was named #1 Spa for Men in the USA by Playboy. Perhaps it was the beer on tap, shoe shine service and complimentary internet access that nudged out the competition?

Floyd's 99 Barbershop
Multiple area locations

Basic Cut: $19

While not exclusively for men, Floyd's does give off a decidedly masculine vibe. Rock music and hipster employees make for a relaxed environment here and clients can even look up each stylist's schedule online. This feature might seem a tad stalker-y at first, but anyone who's ever had a bad hair day knows its worth its weight in pomade.

Knockouts

Multiple area locations

Basic Cut: $25

Guys also get a complimentary beverage at Knockouts, along with a winning smile from one of the chain's comely calendar girls. Scissors, clippers and the like are stored in Craftsman tool chests (tres manly), and clients can flip channels on the flat screen while they're gettin' spiffed up.

SportClips
Multiple area locations
Basic Cut: $16 - $20

As a proud partner of the Dallas Stars and official haircutter of the Texas Rangers, SportClips doesn't take its name lightly. Catch the big game during a cut at this spot where stylists wear athletic attire and services range from the MVP and the Triple Play to the Jr. Varsity for boys.

Too Hotties

4135 Beltline Rd., #110, Addison

Basic Cut: $19.95

Founded by three fellas who were tired of going to "some girly salon", Too Hotties is staffed with only the "hottest hair stylists" in town (their phrase, not ours). This Missouri-based chain offers beard trimming, hot towel treatments and a PB&J bar to boot.
Copyright FREEL - NBC Local Media