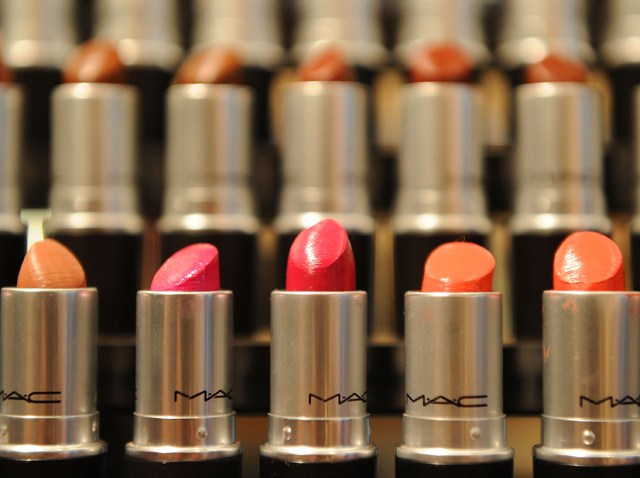 It sounded like something from a parody site: "A top cosmetics company and a designer are putting together a makeup collection inspired by a Mexican border city where hundreds of women have been raped, tortured and killed."
It would come complete with a picture of a dead-looking model, white lipstick called "Ghost Town" and light-colored nail polish called "Factory."
But "The Onion" didn't make this up. And it's not from the script to a "Zoolander" sequel.
Trendy MAC Cosmetics announced the September launch of a limited-edition collection with Rodarte based on the designer's fall 2010 line, which was inspired by female factory workers in Ciudad Juarez, Mexico.
Hundreds of women and girls in Juarez have been slain since the early 1990s, many of them also sexually assaulted, mutilated and/or tortured. Hundreds more have disappeared.
After a barrage of customer complaints, MAC apologized on Friday, saying it did not intend to offend anyone. And on Monday, the cosmetics company went even further, announcing that it is changing the names of the products planned for the MAC Rodarte collection.
"We understand that product names in the MAC Rodarte collection have offended our consumers and fans," the company said in a statement. "This was never our intent, and we are very sorry."
The mea culpa was almost identical to Friday's statement, but dropped wording noting that only "some of" its fans and consumers were offended.
The collection quickly drew fire from many readers of top beauty blog Temptalia within weeks of its announcement late last month.
"The reaction has run the gamut of emotions -- indignation, outrage, hopeful -- with some readers choosing to boycott the collection entirely, others pledging to donate what they would have spent directly to helping the conflict in Juarez and still others who are simply hopeful that the increase in awareness will benefit the cause overall," said Christine Mielke, Temptalia editor and founder.
Mielke said that while MAC has pushed boundaries about gender stereotypes, color and style, she has never before seen a response like the one to the Rodarte collection.
"I would say it is completely unusual and perhaps even the first -- to my recollection -- of a collection that has stirred the makeup community in such a way," Mielke said.
Mielke did not offer her thoughts on the collection, saying she strives to stay neutral so her blog can foster discussion for readers on all sides of the controversy. Her posts on the collection include admonishments to keep comments respectful of others' opinions.
In a statement provided by MAC on Friday, Rodarte said the makeup collection was "intended as a celebration of the beauty of the landscape and people" they saw during a road trip through part of southwest Texas last year.
"The ethereal nature of this landscape influenced the creative development and desert palette of the collection," the statement said. "We are truly saddened about injustice in Juarez, and it is a very important issue to us."
But the original names of several products in the MAC collection openly reflected a Juarez inspiration. Items included a $12 nail polish called "Juarez" that was described as a "bright opal pink, a $19.50 black eyeshadow product named "Bordertown" and a beige-brown loose powder called "Badlands" that was priced at $19.50.
Adding to the disconnect, the promotional image MAC released to beauty bloggers Thursday looked like something that belonged on the cover of "Pride and Prejudice With Zombies." The model's dead-looking skin was almost as pale as the white fabric and lace wrapped around her figure and was in stark contrast to sunken-looking eyes ringed in heavy black.
MAC said Monday that it will donate $100,000 to "a nonprofit organization that has a proven, successful track record helping women in need and that can directly improve the lives of women in Juarez in a meaningful way."
The Estee Lauder-owned company refused on Friday to comment further on the collection or its partnership with Rodarte.
A spokeswoman also did not answer questions Monday about whether or not the product name changes would affect the collection's release date. The line was originally slated to hit U.S. MAC stores Sept. 15.
While Los Angeles-based Rodarte tried to distance itself from the designers' border inspiration after the controversy over the MAC collection erupted, the connection had been openly reported when the fall line was on the runway in February.
According to a Style.com review of the show, Rodarte's Kate and Laura Mulleavy decided to make their fall line about sleepwalking after becoming "interested" in the idea of maquiladora workers going to work in the middle of night.
But the imagery also evoked another meaning: One-third of the victims of the slayings were on their way to or from work at a maquiladora, according to Las Otras Hermanas, a nonprofit that helps women and families in Juarez start their own businesses.
"We recognize that the violence against women taking place in Juarez needs to be met with proactive action," Rodarte said Monday in a statement provided by MAC. "We never intended to make light of this serious issue, and we are truly sorry. Helping to improve the conditions for women in Juarez is a priority for us, and we are thankful for all the comments calling attention to the urgency of addressing this situation."
Those who were hoping Rodarte's fall line or its MAC makeup collection can help educate people may be hoping for too much.
The Style.com review of the designer's February runway show said the end called to mind quinceñeras, corpse brides or possibly "the ghosts of the victims of Juarez's drug wars."
But the review, which lauded the sisters for "lightening up" with a show that was more "playful" than their previous one, seemed unaware of las muertas de Juarez.