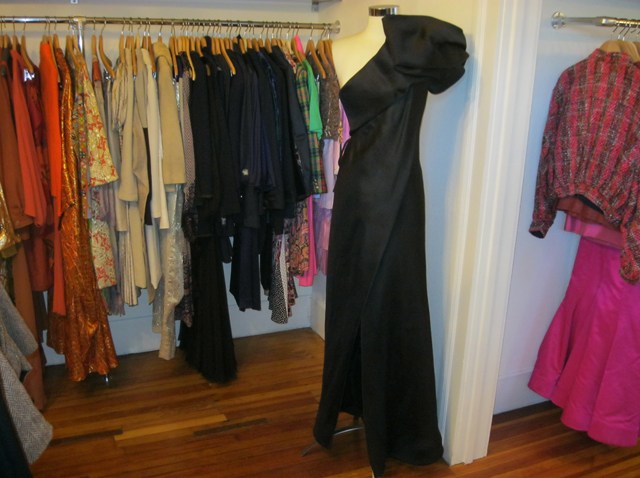 Vintage Week concludes today with a look at the most luxurious and collectible clothing available from Dallas' most well-curated vintage stores. We consider pieces this fine an investment that will last a lifetime; after all, most of these items have already survived the ever-changing world of fashion and achieved stylish immortality.

Our top picks are a gold, mesh Paco Rabanne evening dress from Vintage Martini, a blue and white Valentino gown and YSL leopard trench at Archive Vintage, and a want-to-touch-it stunning white mink jacket at Zola's Everyday Vintage.

A hot-pink two-piece cocktail dress by Gianfranco Ferre, beautifully preserved velvet 30's evening gown with matching caplet, and red satin swing coat with bow detail finish out the list of things we love and wish we didn't have to live without.

Visit Vintage Martini, Archive Vintage, and Zola's Everyday Vintage to see our finds. We hope you enjoyed this fashionable trip down fashion's memory lane as much as we did. Happy shopping.
Archive Vintage
2912 Maple Avenue
Tuesday - Friday 11 to 6
Saturday 11 to 5
Vintage Martini
1106 West Main Street
Carrollton
Tuesday - Thursday 10 to 5
Friday - Saturday 10 to 6
Zola's Everday Vintage
414 North Bishop
Thursday 12 to 5
Friday -Saturday 11 to 10
Sunday 12 to 5
---
Check out our week-long look at the vintage shopping scene in Dallas and beyond. Follow us on Twitter @dfwaroundtown for #vintageweek tweets and to send along your own vintage finds!
Copyright FREEL - NBC Local Media