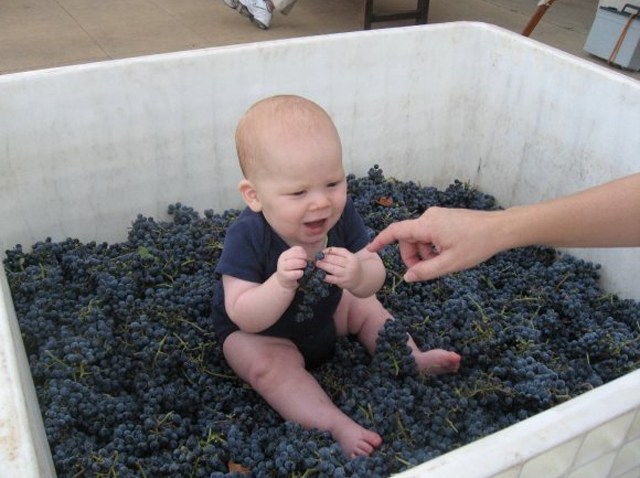 You've probably seen the most famous grape stomp of them all, Lucille Ball in a barrel of grapes stomping away and really enjoying herself. Of course, then there is this one out of Atlanta where the woman enjoyed herself a little too much and took a spill. Either way, grape stomping is played out by amateurs every year at vineyards around Texas, safely we might add, including at Delaney Vineyards and Winery in Grapevine.
On Saturday, Aug. 21, you too can get down and dirty by doing a little grape stomping of your own. In fact, the event is open to everyone no matter how old you are and it won't cost you a thing.
But you will have to do a little work. Before you get to play in the grapes, you are given a bucket, a grapevine cutter and shown how to hand harvest a grapevine. Then you can set out into the vineyard to do a little harvesting of your own. All of those grapes collected are then put into a huge tub full of grapes where the stomping begins.
The vinyard spans 101 acres of Cynthiana grapes, which according to Delaney are the best southern-bred hybrid vine to grow in the Metroplex because it thrives in the hard dry clay soil and doesn't mind the humidity and hot summers.
Small kids get into the action first, followed by Delaney brides and grooms, then bigger kids and then adults. Now make sure to register when you get there and sign a release form. The event runs through 1 p.m. and the vineyard opens at 7 a.m. For 10 bucks you can even do a little wine tasting after 1 p.m.
If you can't make it to the grape stomp, the vineyard also holds other events including jazz on Thursday nights starting at 6:30 p.m. In October you can also take part in the annual vineyard run. You actually start the 5K in the vineyard and after enjoy a little jazz and taste some free wine. If you don't run, not to worry because you can also walk the "run," but the vineyard asks you do not bring along your favorite 4-legged friend.
Getting There: Delaney Vineyards and Winery
2000 Champagne Blvd
Grapevine
If you go, send us photos at iSee@nbcdfw.com.