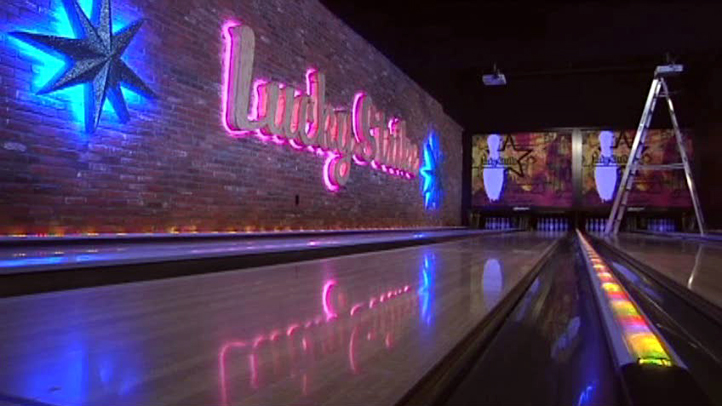 The latest addition to the West Seventh development puts a different spin on the bowling alley.
Lucky Strike opens its doors to the public Friday, May 13. When people head inside,
they'll notice the lanes are a lot more than simply a bowling alley.
"It's state-of-the-art bowling," said Lea Elsbury, general manager. "It's like nothing anyone has seen before, and it's unique to Lucky Strike."
It is certainly high-end bowling, from flat screens, projectors and art displayed above and around the lanes, to cushy sofas and bars.
There are just 10 lanes for bowling at what is Lucky Strike's 20th bowling alley, the second in Texas. Four lanes can be closed off and turned into a private-party area.
"You get the whole room," Elsbury said. "There's a private bar, private restroom, completely self-sufficient -- really, really cool area."
Elsbury is a native Texan that has worked for Lucky Strike in several other cities. She said she thinks the bowling chain is a perfect fit for Fort Worth. She said the atmosphere makes Lucky Strike different.
"It's not something you can describe," she said. "It's completely, 100 percent a feeling. It's the vibe in this place. We go to great lengths to make sure everyone has a great time, that they're safe, that they feel safe and have a great time."
During the day, the atmosphere works for kids parties and family outings.
At night, the bowling alley becomes 21 years of age and older with a dress code. But it's not all about the bowling.
"It's kind of side note," Elsbury said. "Yeah we have the bowling and it's fun, but it's about creating that energy, giving people different options."
Those options include the outdoor patio, a large bar area with 18 flat screens, a host of local beers and a food menu not typical of a bowling establishment.
"It's not the chili-cheese fries," Elsbury said.
The food is just as high-end as the rest of the facility, which, by the way is on the second floor.
"It's slightly uncommon to think of a bowling alley on the second floor, but it happens and we do it well," Elsbury said.
In fact, Lucky Strike has several locations that boasts higher than ground-floor lanes, including the Houston location. Elsbury said the neighbors below don't have to worry, as they've made sure the noise of pins being dropped doesn't get through -- although bowlers cheering is another story.
The reason Lucky Strike picked Fort Worth is a fairly easy one, Elsbury said. She said it is a good community and the perfect choice given the city's efforts to redevelop.
Elsbury said West Seventh is a "great development."
"It's perfect, and we really want to be apart of it," she said.
Lucky Strike also likes to give back to the community by assisting local charities.