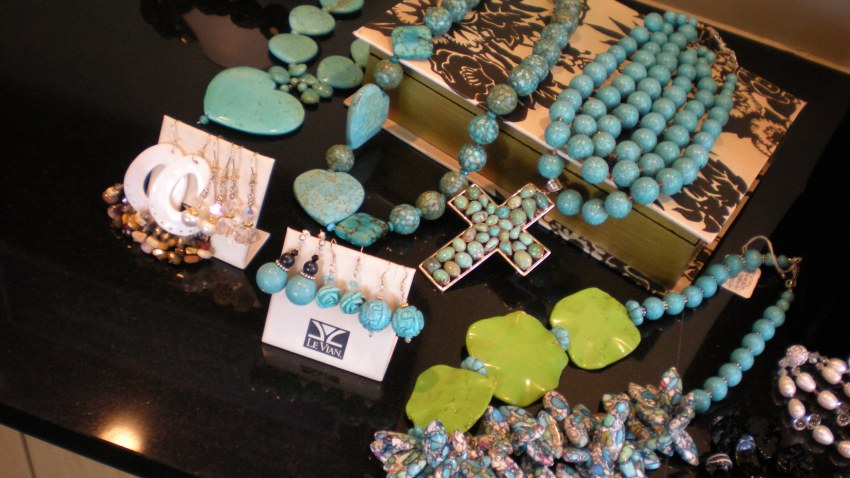 Nancy Garland grew up with an artistic father -- "I remember him doing oil paintings of my mother when I was a girl," she says -- and a mother with a sense of style -- "She loved beauty and quality. She'd rather us buy a used dress of good quality rather than a new one that wasn't well made."
Garland relies on both in her work as a designer of jewelry art.
"Not just jewelry," she described. "It's a piece of art that you'll always have."
The Fort Worth designer got into the jewelry business six years ago. Her first trip to a bead show opened her eyes to the possibility of making the jewelry she bought at luxury stores at a more affordable price and presented an opportunity she could share with other women.
"If I loved it, I figured other women would, too," Garland said.
Her jewelry makes a statement about beauty, confidence and elegance. She uses jewels, crystals, pearls and large precious stones of amethyst, coral, lapis, turquoise or whatever else strikes her fancy.
"I think the beads are my inspiration. When I see them at trade shows, I think, 'Oh my gosh, I can do something with that,'" she explained to NBCDFW.
Each piece, whether it's a necklace, bracelet or earrings, is one-of-a-kind. Some pieces are made in as little as 30 minutes. Others can take up to a week. And Garland won't sell something she wouldn't wear herself.
"I try to wear all of them at least once to see how it feels, to see how well it wears, to make sure it's comfortable," Garland said.
Her prices range from $75 to $1200, yet Garland only pays herself a $50 design fee out of each piece she sells.
Garland makes her jewelry at home in a work room where there is drawer after drawer packed with beads she finds irresistible. She works on her pieces on weekends. Monday through Friday is spent on her full-time job as a parole officer with the Texas Department of Criminal Justice. She wants her hobby turned part-time business to help the women she meets on the job and to keep others from following in that path.
"I hope that eventually I make enough money selling jewelry that I can give to organizations that support women so they don't make the choices that get them in trouble," Garland said.
She'll start that effort tonight with a Nancy Garland Exclusive trunk show at Grace in downtown Fort Worth. Garland will be there from 5 p.m. to 7 p.m. as part of the restaurant's Celebrity Bartender series. A portion of all jewelry sales tonight will benefit the Women's Center of Tarrant County.
Garland's jewelry is also sold through her website, at private parties and at two stores in Fort Worth: Maverick Western Wear (100 E. Exchange Ave.) and Prim and Proper (4823 Camp Bowie Blvd.) Her work is also sold at My Private Collection (106 N. Houston) in Granbury.

Meet Nancy Garland
Tues., Nov, 9, 5 p.m. to 7 p.m.
Grace
777 Main St.
Fort Worth, TX 76102
www.gracefortworth.com
Nancy Garland Exclusive
www.nancygarlandexclusive.com
1-888-675-6880