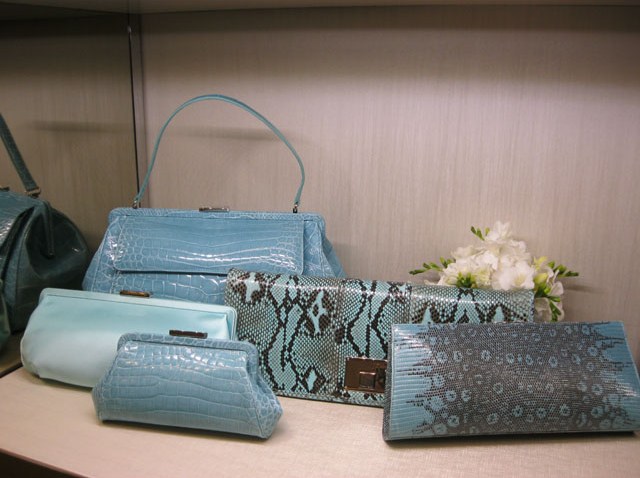 Being blue is a good thing at Tiffany's; designers Richardson Lambertson and John Truex unveiled their handbag line for Tiffany's last night at the store in Northpark Center, and among the standouts in the collection -- you guessed it -- are the bags in the label's signature shade of blue. We want the ladylike, lizard clutch in Tiffany-blue to wear with any and everything.

What do Lambertson and Truex want? Apart from a much needed vacay after a whirlwind press tour (it's looking like Palm Beach for most of December if they have their way) the designers are in love with their Laurelton style, "My favorites can change on a daily basis, but mostly I think that bag (the Laurelton) will live forever is someone's wardrobe. I keep going back to it when I look at the collection," said Truex of the piece he's most proud of.

Lambertson's pick -- the Harlow bag in giraffe. "It's just so joyful!," he said of the piece.
Just off the plane into Dallas, both designers were kind enough to chat with us about the life and times of Tiffany's newest venture.

Been to Dallas before?
JT: "Yes, we love it here, especially the Deep Ellum area."
RL: "And also, we're always on the hunt for good barbecue, we've dragged our friends to Dickeys' before. I love it."

Definitely hit their drive-thru a couple of times myself; what in this collection do you two predict will make a splash with your Dallas' girls?
RL: "The skins, I think."
JT: "I agree, but I figure that overall, Dallas will embrace the very small, dainty jeweled pieces or the major collectors-type pieces from the bigger styles in the line. I believe they'll be attracted to either extreme."

What people close to you influence what you've created for Tiffany?
JT: "Oh my, our girlfriends are all hugely inspirational. Dani Shapiro, the author, comes to mind. And Amy Fine Collins too. Dani's is always just so relaxed; exactly how she lives and dresses. Amy is just to-die-for stylish and always doing something new for us to admire."
RL: "I immediately go to Ellen Carey or Diana Broussard. God, Diana always looks great."
JT: "That's what I mean, Ellen's so spot-on for the woman we envision carrying our bags. She's always a woman that leads - not follows - when it comes to fashion. She dresses amazingly all the time and has fun with it. I'll never forget when she came to see me at the Bel-Air hotel dressed up in an emerald, taffeta ballgown."
RL: "It was her birthday, I think!"

You made the switch from having an independent label to designing for Tiffany's in less than 60 days, how are you dealing?
JT: "It was an insane time, but Tiffany's is the greatest thing I've ever been a part of. They literally handed us the infrastructure, money, and time to do our collection and just let us work creatively with full trust."
RL: "I agree, amazing. We've loved everything they've done for us, right down to the feedback and marketing."

Anything you purposefully "brought with you" creatively for Tiffany's from your time with your own label?
JT: "Yes, our customer response and everything we learned from them over the years."

What's next for the Spring 2011 collection?
RL: "Such a great, fun color pallette."
JT: "Yes, color everywhere; so cool. And our resort hits stores end of November, followed by Spring arriving in February and March. I can't wait. But I'm also still very in love with the current bags. Which I think is a good sign."

You two look as fantastic as your bags; what are you wearing the most right now?
JT: "A lot of Yohji and Commes de'Garcons suits that I've had recut, narrowed, made new. And riding gear on the weekend. I have a horse now; a Hanoverian."
RL: "I love my Moscot glasses right now. And I think some of the bags make great briefcases too."

Dallas has the only store in Texas carrying the handbags, and you better act now if you want one.
"My favorite - the reversible bag - is already sold out here and pretty much everywhere," said Rhonda Sargent Chambers of her fav in the line, "But the Tiffany-blue skin clutches I love too; they would go with everything I own!"

Want to take one home for yourself? Go the the Tiffany's store at Northpark Center as soon as possible.
Copyright FREEL - NBC Local Media