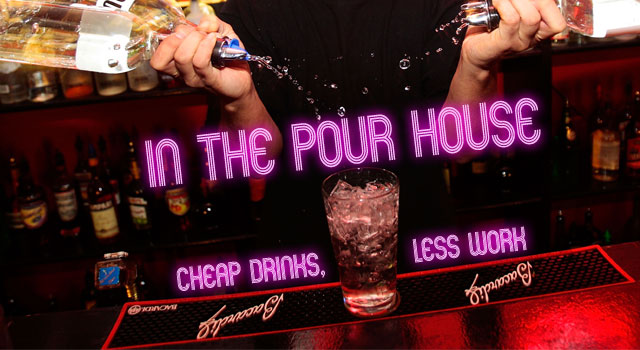 It's been a gloomy, rain-filled week, and the weekend forecast isn't looking any sunnier.
But don't let the weather keep you from having a fun-filled weekend! Escape in at one of our favorite hot spots for a weekend happy hour or brunch.
Stay dry this weekend at one some of DFW's best watering holes.
The comments section below is the place for you to share your favorite happy hours spots!
Addison
TwoRows Classic Grill
Thurs: $4 Crown and down from 4pm-11pm
Fri: $2 handcrafted pints from 4pm-7pm (Mon-Fri)
Sat: $3 well drinks from 11am-11pm
Sun: $2 well drinks and $2 handcrafted pints all day, all-you-can-eat brunch from 11am-2pm
Speeds Live
Thurs: $11.25 domestic buckets and other discounted drinks all night
Fri: $5 Grey Goose and Hennessy and $5 bombs all night
Sat: $3 Jager, Tuaca and Rumple and other discounted drinks all night
Sun: $3 you-call-its and Service Industry Night

Dallas – Oak Cliff/South Dallas
Gloria's
Thurs: $3 margaritas, $3 sangria, $3 mojitos, $3 domestics, $3.25 imported, $4 swirls, $5 meltdowns and $5 flavored margaritas all day
Fri: $3 margaritas, $3 sangria, $3 mojitos, $3 domestics, $3.25 imported, $4 swirls, $5 meltdowns and $5 flavored margaritas from 3pm-6pm
Sun: $3 margaritas, $3 sangria, $3 mojitos, $3 domestics, $3.25 imported, $4 swirls, $5 meltdowns and $5 flavored margaritas all day
El Ranchito
Thurs & Fri: $3.50 margaritas and $2 draft beers from 3pm-6pm
Absinthe Lounge and Cigar Bar
Thurs, Fri, Sat & Sun: $2 draws, $3 wells, $4 calls, $5 martinis from 4pm-9pm

Dallas – Downtown
Palomino
Thurs, Fri, Sat & Sun: $4 house Cabernet and Chardonnay, $4 draft beers, $4 margaritas, half-price appetizers and $5 pizza from 3pm-6pm
Ten Sports Grill
Thurs: $2.50 domestics, $2.50 wells, $1 off premium drafts, $2.50 frozen drinks all night
Fri: $3 domestic light beers
Sat: "Ladies' night" features $3 martinis, $2 mimosas, $2.50 frozen drinks
Sun: $15 domestic buckets, $3 bloody mary's, $2 mimosas

Dallas – Uptown
The Grapevine Bar
Thurs, Fri, Sat & Sun: $2 or $3 any drink (excluding super-premiums), $2.50 or $3 shots and martinis from 2pm-7pm
Mattito's
Thurs and Fri: $1 off margaritas, beer, wine and cocktails from 4:30pm-6:30pm
Sun: brunch from 10am-2pm

Dallas – Greenville
Terilli's Italian Restaurant and Bar
Thurs and Fri: $3 beers, $4 house wines, $5 martinis, $5 cosmos, $1 off wells, and $2 off martinis from 4pm-7pm
Sun: $2 mimosas, $3 champagne and $3 poinsettias with brunch from 11am-3pm
Monica's Aca y Alla
Fri: $3 margaritas, $3 all beers, $3 well drinks all night!
Sun: $1 mimosas, $1 margaritas, $2.50 bloody marys sand $2.50 screwdrivers with brunch from 11am-3pm and $4.50 top shelf margaritas, $4.50 flavored margaritas and $4.50 well drinks from 6pm-10pm

Fort Worth
Fox & Hound
Thurs: $3 Red Fox pints, $4 big Red Fox and $5 calls from 4pm-7pm
Fri: $2 Bud Light pints and $4 calls from 4pm-7pm
Taverna
Thurs & Fri: $3 well drinks, $3 drafts, $3 mimosas, $3 bellinis, $3 house wines and half-price appetizers and pizza from 3pm-8pm
Sat & Sun: $5 bottomless bellinis and mimosas with purchase of entrée during brunch
Abuelo's
Thurs & Fri: $2 domestic drafts, $2 house wines, $2 wells, $3 margaritas and swirls and half-price appetizers from 3pm-7pm
Sat & Sun: unlimited mimosas and bloody mary's with $16.99 brunch
Buffalo Wild Wings
Thurs & Fri: $3 margaritas, $3 house wines and $3.25 domestic drafts from 4pm-7pm (but all day on Wednesdays!)
Fortuna Grill
Thurs, Fri, Sat & Sun: $3 house wines and $3 bottled beers all day
The Main Burgers & Bar
Thurs, Fri, Sat & Sun: $3 beers and $4 wells all day
Irish Rover Pub

Thurs, Fri, Sat & Sun: $2 domestic drafts and $1 off wells, calls, and house wines from 3pm-7pm