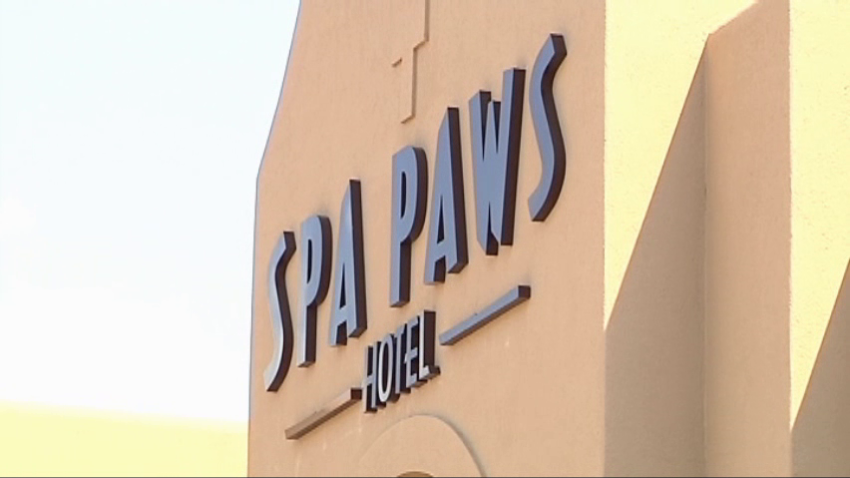 Like the animals who will soon be coiffed in the grooming facility, there are still some finishing touches needed at the nearly seventeen thousand square foot Spa Paws Hotel.
Set to open October 1, the facility is the brainchild of Janice Ford Grimes, a Fort Worth woman who was inspired to get into the pet business when her cat, Dakota died of a disease (mercury poisoning) she would later discover she had, too. "As you know, if you're a cat lover, cats will try to take your illness from you. So, he was trying to save me and died because of it," said Ford Grimes.
The hotel has 75 private suites with the smallest rooms starting at $65 per night. For 200 dollars, pets can stay in the 120 square foot Texas King Room."There are a lot of people who have big dogs, and they want to board them together," said Ford Grimes. "But it has other uses as well. We do have weddings at Spa Paws hotel, and it can double as a honeymoon suite."
There's also a massive special events atrium, doggie boutique, and a photography studio with pet beds just like the ones that will be in each private suite. But it's the alternative medicine wellness center the owner says is the heart of the business.
"The Paws Wellness Center is a totally Eastern wellness center. It's really based on education, nutrition, herbology, the most invasive thing is the acupuncture," said Ford Grimes. The owner knows the economy is a concern, but said it wasn't when she started this journey five years ago. She hopes despite the tough times, people will still pony up for their pet.