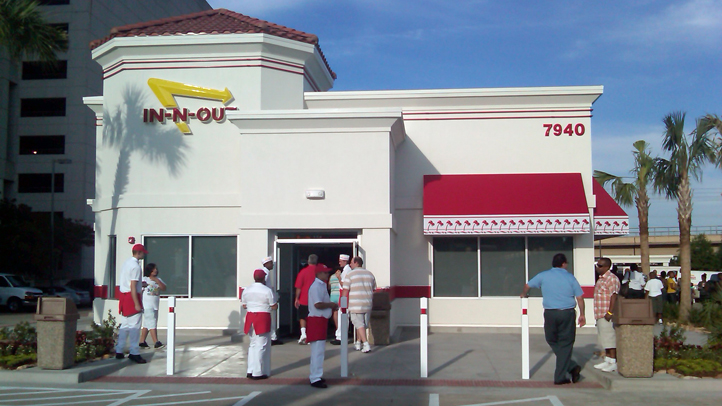 Apparently, messiah burgers — aka: In-N-Out — failed to gather the believers this morning at its Dallas location.
According to the Dallas Morning News, a mere handful of people, 14, showed up for the burger chain's opening of its Dallas-proper location along the northbound service road of Central Expressway between Caruth Haven Lane and Southwestern Boulevard.
Wonder what the lunch lines are like now. Anyone? (Editor's Note: They didn't break records, but there was a little backup. -GJ)
Anyway, that's a drastic difference from the openings in Allen and Frisco, where lines caused people to wait for an hour or more for a tasty burger. Maybe those locations took a bite out of the Dallas appeal. Maybe they're just not all that.
Whatever the reason, the extra drive-through lanes, six Dallas police officers, and private security guards seem a bit over the top from the luxury of hindsight.
The California chain has made pretty big news since moving into North Texas. This might be the biggest news of all.
Or maybe it's just old news.
---
Bruce Felps owns and operates East Dallas Times, an online community news outlet serving the White Rock Lake area. Give him Twisted Root, Lakewood's 1st and 10, or Cock and Bull Pub any day.
Copyright FREEL - NBC Local Media