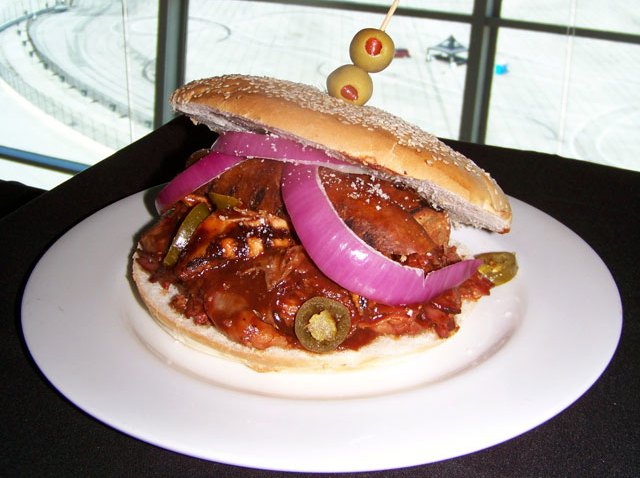 Without getting into the whole clichéd "everything is bigger in Texas" thing, oops, the Texas Motor Speedway today unveils its new No Limits menu under the banner "Feed the Nation."
From the looks of things, just one item off the menu could go a long way toward feeding the nation.
Today's unveiling and tasting — 3 p.m., at the TMS Nation Campground Site — features a ½-pound burger with 36 ingredients — what? — and, get this, a 2-pound barbecue sandwich with all manner of dead animals, including cow, pig, and chicken topped with guacamole, chipotle ketchup, mushrooms, and more barbequed cow, and you want fries with that, right? Course you do.
Conspicuous consumption, anyone?
Really, three items off this menu could just about feed the nation of Haiti, and they'd be damned grateful. Here, though, somebody's gonna order that 2-pounder, eat his or her fill, and toss the rest into the nearest trash bin because he or she doesn't want to hassle with carrying around the leftovers.
No wonder so much of the world hates us.
Bruce Felps owns and operates East Dallas Times, an online community news outlet serving the White Rock Lake area. He just lost his appetite.

Copyright FREEL - NBC Local Media