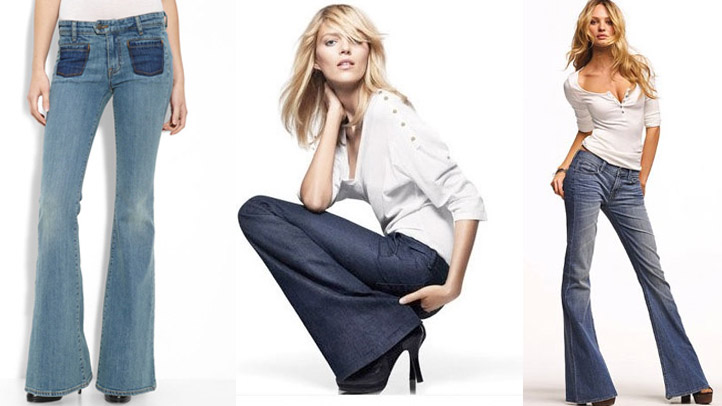 Love the wide-leg denim trend for Spring but aren't sure how to wear the tricky, '70s-inspired style? We're giving you our top five tips for rocking this seasons trendiest jeans.
DO pair the figure-flattering wider-leg jeans with a slim, body-skimming top. A tee or tank that has too much volume will compete with the full shape of the pants. Keep your top closer to the body to give your figure the maximum boost.
DON'T rock a pair of wide-leg jeans that are too short for your inseam. This style of denim must graze the floor to achieve the right look. So, if you're planning to wear some of Spring's sexy platform heels or wedges with your wide-leg denim, take them along with you when trying on styles. That way you're sure to snag a pair that's long enough for you and the extra inches added courtesy of your adorable shoes.
DO make sure you choose the wash that works for you. Spring's denim look comes in every wash imaginable, from super faded to ultra dark. If you're timid about the trend but want to try it out, we suggest you go for a darker wash that's less '70s and more trouser-inspired. However, if you love the Ali McGraw aesthetic, go for one of the light, incredible soft denim options available in the wide-leg styles.
DON'T choose a wide-leg style with a rise that is too high or low for your figure shape. Many of the fuller leg jeans have a higher than normal rise, but if you're on the shorter side, buying a pair with an overly high rise will mitigate the leg-lengthening benefits of this type of denim. So, choose a pair with a lower, more flattering rise. Ditto if you are curvy; the lower rise options will help you rock this style to maximum effect.
DO pick the right accessories. An over-sized hobo bag and '70s-inspired sunglasses are perfect companions for your fuller leg jeans. However, large belts will only detract from the wide-leg look, and shoes that are too formal or corporate won't work with this laid-back style.
Lastly, you don't need to pay too much for your new denim, since wide-leg jeans are available nearly everywhere this season. Target, JCPenney, and Forever 21 all have great styles, and if you've got some extra money to spend on your Spring wardrobe, try styles from Barney's selection of Genetic and Citizens of Humanity.
Copyright FREEL - NBC Local Media