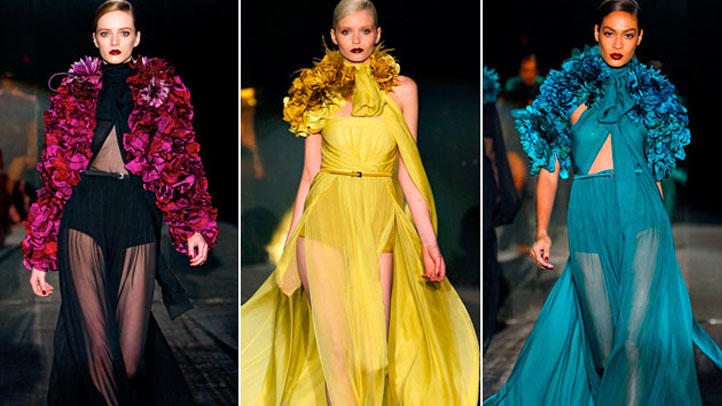 We're sure you've spotted the gorgeous sheer skirts and tops gliding down the runways at Gucci or Michael Kors and thought, "Interesting, but I could never wear that, as I'm not a fan of showing my underthings to the public." We share the same sentiment and wouldn't be caught dead with our knickers on display, but since we love the trend - especially the peek-a-boo pieces by Dallas label Nha Khanh - we've put together a style guide to help you rock the see-through look in style.
To shop the look: Try Cusp by Neiman Marcus for sheer tops, like Alice + Olivia's sheer striped button front version. Head to Barney's to snag ultra-cool, sheer sweater dresses by Helmut Lang, and hit BCBG to shop our favorite see-through pieces such as the "Le Village" color-block chiffon tunic.
What to wear underneath your stylishly sheer items: We recommend basic tanks, slips, tap-shorts, and body-hugging underpinnings like those from Spanx. If you plan to exuberantly collect sheer pieces for Fall layering, buy a selection of each undergarment including barely-there tanks in black and nude, as well as basic slips or figure-enhancing versions in dark and light options. If you're on a budget, shop for slips at any vintage store; they all boast a good selection.
Finding fabulous underpinnings: We love the soft and versatile collaborative collection Abi & John from Abi Ferrin and John Piermarini, available at new boutique, Piermarini, in Dallas. Trousseau on Oak Lawn carries a great collection of high-end options and tap-shorts, and, of course, a wide assortment of basic slips and tanks are always available via Victoria's Secret, Gap, and department stores like Dillard's and Nordstrom.
Accessorizing your sheer pieces: We love to keep the sweetly sexy sheer look a bit edgy with bold accessories like aggressive, platform heels and studded clutches. And when Dallas' interminable Summer is over, layer your sheer items with cardigans, blazers, and jeans for a chic, eclectic style.
Copyright FREEL - NBC Local Media