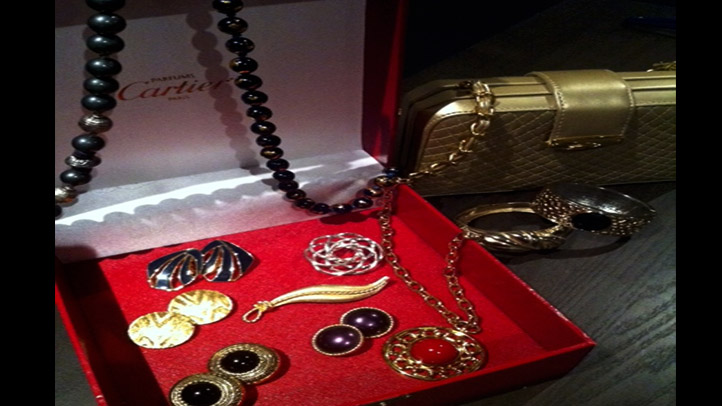 Michelle Parker & Lindsay Jenkins, co-founders of new vintage boutique Pocketful of Pearls, have a shopping habit they just can't quit. In fact, their quest for perfect, one-of-a-kind finds from their favorite decades is what led them to open what is sure to be Dallas' newest hot spot for vintage lovers. We caught up with the Pearls girls recently to find out what's in store when they have their official grand opening on June 1.
What inspired you to turn your passion for vintage finds into a business/boutique?
"We learned early on that we had one major obsession: Shopping!! We were treasure hunters long before we decided to go into business. Since we are always shopping, we often come across items that may not necessarily fit our personal style so we thought this would be an excellent platform to showcase some of our amazing finds. More importantly we learned that when you do what you love it doesn't feel like work at all! Our closet at the shop is also stocked with an eclectic mix of handpicked retro and modern pieces, but our favorite pieces in the closet are vintage items like the silk wrap dresses and blouses that tie at the neck and retro finds like a Diane von Furstenberg pleated black tiered LBD."
What can clients expect from the feel and shopping experience when Pocketful of Pearls opens?
"The P.o.P. closet is all about variety and personality. When you visit the site, expect to explore a new way of shopping that is based on your current mood or the mood you would like to convey. We believe when it comes to style, you should ignore the fashion "rules" and wear what is most conducive to your personality. Items in the P.o.P. closet are categorized in these 6 moods: Extraordinary, Free-Spirited, Controversial, Amused, Jaded, and Important. We hope that clients use these moods to not only identify their personal style but also take a chance and experiment with new ones."
Where do you source your finds for Pocketful of Pearls? Are you all engaging in redesigning the pieces as well or just finding great things that need no alterations?
"We are willing to search anywhere when it comes to finding a good deal on vintage and retro fashion. Locally, we explore various resale boutiques. Occasionally, we like to hop in the car and take road trips! It's always interesting to see the different kind of items you come across outside of DFW. We don't limit ourselves to one store or location. When we shop, we look for amazing items that are in the best condition. We like to stay true to the original design and give our clients the opportunity to personalize their own pieces. Any changes made to an item would be minor repairs such as a button fix and/or clasps.That's all we can reveal for now, the rest are trade secrets!"
What are your favorite vintage items within your own wardrobes?
"On one of our many shopping excursions, we came across these amazing Silk Kaftans! We love them because they are so dramatic! There's nothing more fabulous than working hard all day, coming home and lounging around in a floor length silk kaftan. Michelle found a beautiful vintage Miriam Haskell necklace that is timeless, and Lindsay found an adorable Dooney and Bourke over-the-shoulder messenger bag she snagged at a garage sale."
What are your favorite clothing 'moments' historically?
"Though we're both fashion enthusiasts, we definitely have two distinct and different styles!" Parker: "Coco Chanel is a timeless style icon that represented choosing comfort and lifestyle over making a fashion statement." Jenkins: "I couldn't be happier that 70's fashion is making a major comeback this season. I was also really into the Marc Jacobs/Perry Ellis grunge collection from the early 90's."
What are your favorite pieces currently that POP clients can expect to find on racks come June 1?
"Of course we love everything in our store, but some of our favorites are a gorgeous silk leopard wrap dress, a black and white sequin mini dress, and a wine colored sheer dress with horizontal pleats across the chest that we've been obsessing over since we bought it! Another favorite is a floor length gun metal color skirt that we could see Alexa Chung wearing with a black tank, or Michelle Obama wearing with a white button down."

Pocketful of Pearls is planning an online shop in addition to their Dallas boutique presence; check the website to sign up for their mailing list to track details on the June 1 opening. We also highly recommend that you follow their sartorially cool inspiration blog, InspirationbyPoP; you can also connect with them via their social media outlets.
Copyright FREEL - NBC Local Media