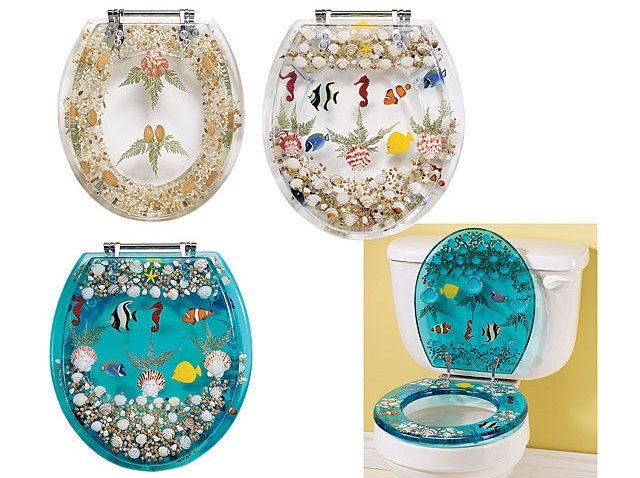 Just when we thought it was safe to go back in the powder room, Catalog Favorites introduces three new horrors on the high seas.
These disastrous designer toilet seat covers are available in Clear Seashell, Blue Seashell or Blue Fish designs, "handcrafted" just for your derrière of polyresin and anti-rust chrome. "Handcrafted?" Now there's an artisanal product for you. Who needs fancy cheese or antique furniture when you could have one of these beauties?
At $69.95 each, they're not exactly a bargain-basement monstrosity either. One would have to be truly committed to the idea of, well, sitting on fish, to make such a luxurious purchase. And one can only imagine the embarrassment of such a charge on one's monthly Visa statement. "Fish Toilet (Blue)?"
However, once this treasure is safely hidden behind a locked door in the bathroom of your choice, your secret is safe and sound. No one will be any the wiser if you engage your new faux fishes in a little game of "Watch out below, Nemo!" or "The Little Mermaid: Flounder's Revenge". Hell, you could even dress up like a Snork and sing show tunes, for all we care.
Just be sure and wash up before returning to the real world.

Check out our frightening Horrors of Fashion Gallery above for the Fashion trends you DON'T want to wear.
Copyright FREEL - NBC Local Media