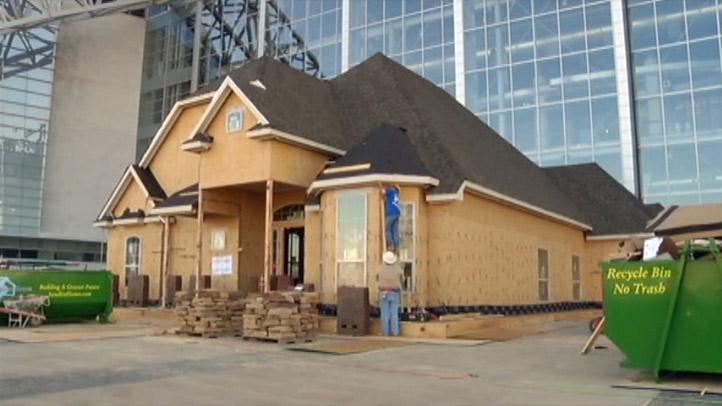 They say everything is bigger in Texas, and that includes the Great Big Texas Home Show.
A North Texas family-owned homebuilder, Sandlin Custom Homes, is building and furnishing a 2,500-square foot home in less than 10 days at Cowboys Stadium.
It also will be the first home ever be built at a football stadium.
"It's an awesome sight to see that we've got a house right here, and the backdrop, in your backyard, is literally Cowboys Stadium," Sandlin Custom Homes owner Scott Sandlin said.
With seven days to go, the project is going well, he said. Workers are working 24 hours per day to get it ready in time for the Great Big Texas Home show.
The event is expected to draw 50,000 attendees from across the Metroplex to the stadium to view the latest in home trends, designs and products.
Attendees will get a view of the home as well as a chance to win $50,000 in home appliances.
And some of the giveaways will blow home enthusiasts' minds, Sandlin said.
"The refrigerator will talk to you and give you a list for grocery items you need," he said. "The oven will have menu ideas that you can program in and give you recipes for cooking."
The home is expected to be completed by Sunday.
The home show runs March 11-13 at Cowboys Stadium. It will be open from 10 a.m.-9 p.m. on March 11-12 and from 10 a.m. to 6 p.m. on March 13. Admission is $15 on-site and $12 online for adults and $6 for children. Children 5 and younger are admitted for free.