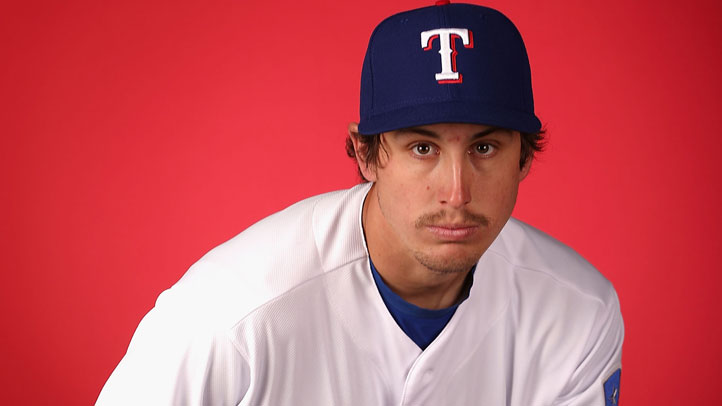 Derek Holland just can't catch a break.
The Texas Rangers lefty, who fell down stairs after tripping over his dog back in January, has yet to pitch this season after initially setting a personal goal for his return at June 1 and the club setting a goal of "sometime around the all-star break." Neither of those happened.
In fact, Holland is still waiting for his return to a big-league mound and was supposed to make his sixth and final rehab start for Triple-A Round Rock over the weekend before he was scratched with back spasms. He seems to OK, at least that's what we're told, and will have throwing sessions Monday and Tuesday to decide if he's well enough to make a start Thursday for the Express.
"I'll take whatever they give me," Holland told ESPN Dallas. "If it's taking one more rehab, I'm here for whatever they need."
Holland has repeatedly said he's ready to return to the mound for the Rangers, including just before he was scratched from his scheduled start. Thursday's scheduled start is a big one for Holland, who needs to show he's healthy and has his endurance under control before the Rangers are going to send him out for a big-league start when rosters expand on Sept. 1.
The Rangers, as well as Holland, really want him to make a couple of starts this season so it's not a completely lost year and to see where he stands heading into 2015. But, if there is just one more setback, of any kind, you have to wonder if the Rangers will just shelf Holland for the remainder of the season.
You have to understand both parties' desire to get him back to action this year, but at what point does the risk outweigh the reward? Watch carefully over the next few days and see how Holland's bullpen sessions go leading up to Thursday. The Rangers will likely want him to go at least six innings in that Thursday start and throw 100 pitches, so it'll be interesting to see how it turns out for the guy who was projected as the club's unquestioned No. 2 starter before his fateful fall down those stairs.
"There is no doubt, I'm ready," Holland said. "Are they ready for me to come back? You name it, I'm ready and I'm good. I did treatment and I feel pretty damn good right now. I got lots of energy."
Copyright FREEL - NBC Local Media