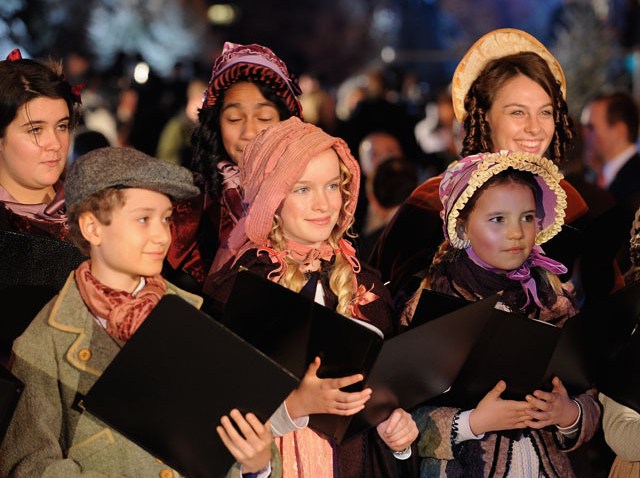 WARM UP: If your family is going snowy places this winter, take note: Doug and Lynda's Ski Shop (227 E. Louisiana St.) is offering 10 percent off this season's apparel by The North Face right now. But the haven for stylish snowboarders, skiers and wakeboarders really stands out for its selection of Roxy gear, which the pigtailed shredder in your life will oogle over. Last season's sportswear sticks around in the sale section, so don't be deterred if your budget isn't prepped for luxury.
GREEN STREET: Only a few footprints away is Strada Verde (115 E. Virginia St.), where eco-friendly clothes, accessories and trinkets are more boutique-style than crunchy. Our favorite stocking stuffer: Matchbox Notes ($15), teesny folded cards printed on Forest Stewardship Council-certified paper in delicate prints. Thinking ahead for your stylish aunties? Springy handbags in celery and coral by Canopy Verde made with organic cotton and bamboo are on sale and sans embroidered chemicals. And whether or not you care what touches your skin, there's a thick selection of sublimely comfortable clothing at shops like these. We're sitting on our hands right now to not treat ourselves to the organic cotton 'No Crying' Fine Jersey Tee by 1943 Highlight with the A League of Their Own quip "There's No Crying in Baseball" ($28) screened on the front.
LUNCH DATE: Compare wins thus far with your shopping partner. The contender with the emptier bag has to try the Fried Bologna Sandwich at Herby's Soda Fountain (210 N. Tennessee St.). No takers? The both of you can easily chow on good ol' burgers or ham sandwiches for less than $10. Go ahead, add some vanilla to that victory soda.
CARE PACKAGE: Need to post up a taste of Texas for ex-pat friends? Loco Cowpoke (206 E. Louisiana St.) is your place. Cactus Sangria Jelly by New Cannan Farms ($5.99), Texas Firepit HOT Bar-B-Q Sauce by Fredericksburg Fams ($7.99) and Dr. Pepper Cake & Frosting Mix ($15.99) by Debbie's Specialties are conveniently gathered in this shop of Lone Star pride and treats. The mantra is, "If it ain't made in Texas, we ain't sellin' it," but the flavor of these goods would have trouble hidin' their accent even without a label.
CRAFTY PLAN: For the grandparents who have everything, a collaboration between beloved little hands and Walls of Clay (115 W. Virginia St.) is in order. Already done the kids'-names-on-a-plate? How about a chip-and-dip snack bowl? Really, you could go for the whole set, and the superfans would be happy. Just make sure you're 5-7 business days ahead of the gift-giving gathering and you're set to get messy. (The staff offers a cheat if you hate your handwriting with its custom option.)
MARK IT: The Square has turned into a bustling Victorian town center through the end of the weekend with Dickens of a Christmas, a 29-year-old tradition in McKinney. Expect horse-darwn carriages and carolers aplenty. Festivities last until 8 p.m. Saturday and continue on Sunday from noon until 6 p.m.
Copyright FREEL - NBC Local Media