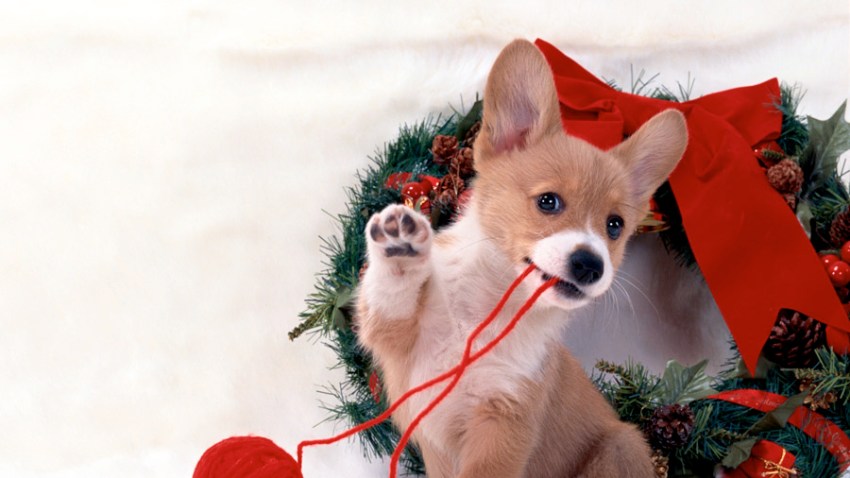 Sure Santa Clause is coming to town with gifts for little Sammy and Sue, but what about your pet? If your pet has been good this year it is time to reward them with a holiday present.
"Pet stores sell all kinds of holiday presents for our animals," states Dr. Mark Stickney, clinical assistant professor and director of general surgery Services at the Texas A&M College of Veterinary Medicine & Biomedical Sciences. "However, not all those presents are good choices for your pet."
Added holiday pounds are not just a worry for us; our pets can be at risk as well. Dr. Stickney recommends keeping a few things in mind if you are planning on purchasing edible presents for your animals.
"Too many sweets can make pets sick," notes Stickney. "It is also important to factor in the added calories from the treats so overfeeding can be avoided."
If you are planning on buying your pet an edible chew toy, Stickney recommends getting them one that will soften as they chew it such as rawhide. Things such as pig's feet and horse hoofs do not soften, and can crack a dog's teeth.
In terms of toys, Stickney has a few suggestions when it comes to what to get your pet.
"For dogs, don't get them a toy that resembles anything they are not allowed to chew on. A toy shoe or newspaper could be confusing and give the animal the wrong idea about what is or is not ok for them to chew on," explains Stickney.

Also, make sure the toy you get the dog is sturdy.
"Don't get your pet anything they could shred or destroy, they might eat part of it which can potentially cause gastrointestinal obstructions," comments Stickney. "Make sure to get a toy that is appropriate for the breed and age of your dog. There is a great rubber dog toy called a Kong. These rubber toys have a hole in the center that can be filled with a treat which the dog works to get, which is both fun and stimulating for the animal. Kong's are a great toy idea for any dog because they are virtually indestructible, come in various sizes, and provide hours of entertainment for your pet."
Information from Pet Talk; a service of the College of Veterinary Medicine & Biomedical Sciences, Texas A&M University. More PetTalk stories: http://tamunews.tamu.edu/