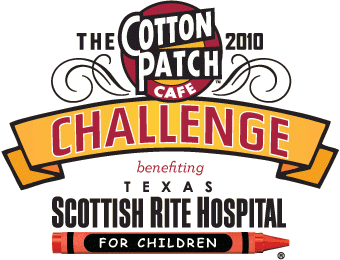 This was one of my very first blog posts in 2009 and I'm proud to showcase it once again!
The Cotton Patch Cafe & Scottish Rite Hospital are working together - and you are one of the beneficiaries! From now until May 16th, for every $25 that you donate to Scottish Rite through The 2010 Cotton Patch Challenge, you can earn a $25 gift card to The Cotton Patch! (The limit is $1,000 per donor)
Their goal is to earn $100,000 for Scottish Rite and you can help!
My family participated last year and we just recently used the last card. It's a fun way to help a very worthy organization and earn some free food at the same time!
To learn more about the work Scottish Rite does, click here.
To see The Cotton Patch Cafe locations, click here.
To find out more about this limited-time promotion or to donate, click here.