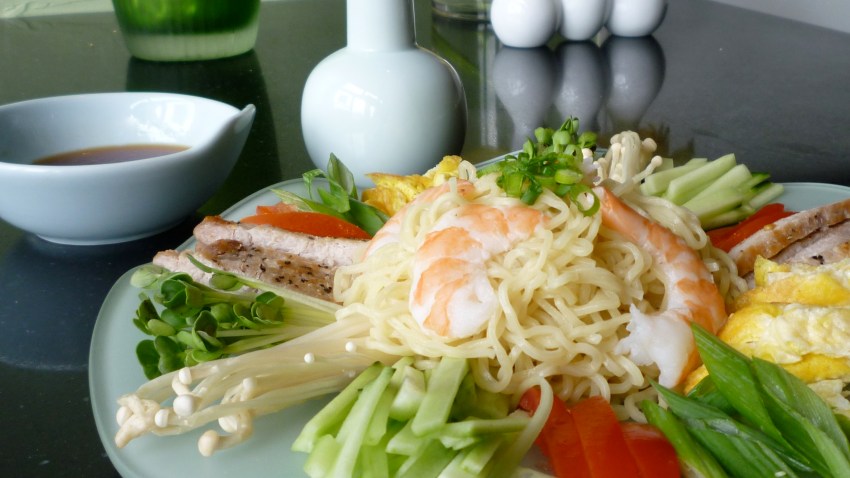 We'd like to meet the genius who decided that gloppy macaroni-mayo salad was perfect for hot summer gatherings and give him a good talking to. When the sun is shining and we've got swimsuits to wear, we're craving something more on the light and refreshing side. Bet you are, too.
Enter Chef Michelle Carpenter of Dallas' Zen Sushi.
This restaurateur has made a name for herself serving up some of the best sushi we've ever sampled, but her delicious Asian specialties don't stop there. Today she shares the secret to Hiyashi Chuka, or Summer Noodle Salad. This warm-weather pasta dish (unlike certain macaroni monstrosities) is healthy, beautiful and impressive. Enjoy!
Hiyashi Chuka (Summer Noodle Salad)

Ingredients:

Hiyashi Chuka noodles (Find these high-quality raw ramen noodles in the freezer section of most Asian grocery stores.)

Eggs
Cucumber, julienned

Tomato, seeded and sliced

Enoki mushrooms
Daikon sprouts
Green onion, sliced
Pork tenderloin
Shrimp, peeled and deveined

1. Cook beaten eggs (two per serving) in a non-stick pan over medium-high heat as you would an omelet. When firm, cool and then cut into strips.
2. Slice the pork tenderloin into 1/4" strips, season with salt and pepper and pan fry until cooked through.
3. Boil shrimp until just opaque, cool and slice in half.
4. Cook noodles according to package directions, then transfer immediately to an ice water bath to cool. Drain.
5. To assemble the salad, mound cold noodles in the center of the plate and fan sliced fresh vegetables, pork and egg around them. Top with shrimp and pour 1/3 cup of prepared sauce (see below) over noodles. Serve additional sauce on the side.
For the Sauce:
Hon Dashi (bonito fish soup stock)

Rice vinegar
Soy sauce
Sugar
Sesame oil
1. Combine 2 tsp. dashi with 5 cups hot water to make dashi stock.
2. Combine 3 parts dashi stock with 1 part each rice vinegar, soy sauce and sugar. Add a splash of sesame oil, whisk to combine and refrigerate until ready to serve.
Want more recipes from local chefs? Click here to Gourmet Yourself!
Copyright FREEL - NBC Local Media