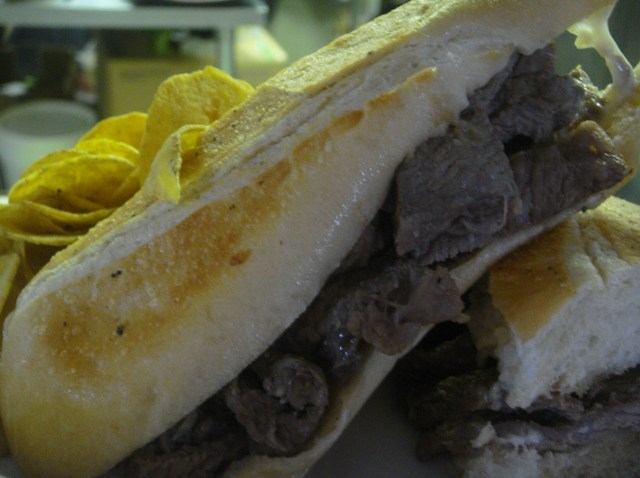 1 loaf Cuban bread*
Yellow mustard
Mayonnaise
1/2 pound baked ham, thinly sliced
1/2 pound roast pork, thinly sliced
8 thin dill pickle slices
1/2 pound Swiss cheese, thinly sliced

* Italian or French bread may be substituted.

Slice the bread horizontally to open. Spread a thin layer of mayo on top and mustard on bottom halves of bread. Then arrange ham, pork, pickle slices and Swiss cheese evenly over the bread. Cover the sandwiches with the top halves of the bread. Cut in an angle into 4 sandwiches.
Method:

Sandwich Press: Grill sandwiches in a hot buttered sandwich press until flat, bread is browned, and cheese has melted. Remove from heat; cut each sandwich in half and serve immediately.
Waffle Iron: Turn over metal plates to the flat surface. Place sandwich in hot buttered waffle iron, close cover, and grill for 3 minutes on each side.

Griddle: Place sandwich on a hot griddle, and position a heavy iron skillet or bacon press on top of the sandwich. Flatten the sandwich to about 1/4 of its original size. Grill the sandwich for 2 to 3 minutes on each side.

George Forman Grill: May also be used.