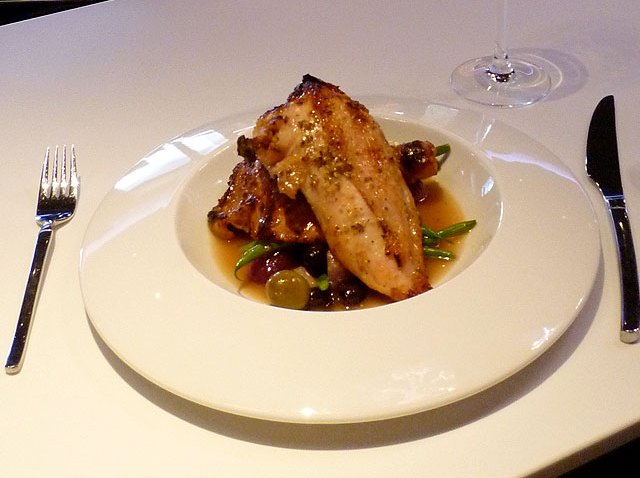 Roasted chicken is a dish by which many chefs are judged. Deceptively simple, this perennial favorite requires a skilled touch with seasoning and a professional's instincts to yield the perfect bird.

Or you could just use our cheat sheet, courtesy of Executive Chef Brian Sommers of DISH.

Sommers' love of cooking began in his Grandmother's Southern kitchen – complete with cast iron and plenty of pork lard. From there, he trained with accomplished chefs and even learned to fry chicken from the legendary Julia Child. Today, he heads up a staff of 17 in the kitchen of one of Dallas' hottest new restaurants.

Attention to detail is the hallmark of Sommers' succulent Free Range Roasted Chicken. Brining ensures a moist and well-seasoned interior, while a honey-rich glaze makes for crisp, golden skin. But you don't have to take our word for it. Read on for the (no longer) secret recipe.

DISH Restaurant's Free Range Roasted Chicken

For the Brine:

1 3-4 lb. free range chicken
½ cup Kosher salt
1 tbsp. Dijon mustard
¼ cup honey

For Roasting and Service:

salt & white pepper
1 tbsp. honey
1 tsp. lemon juice
1 tbsp. fresh thyme, chopped

Instructions:

1. In a large pot, dissolve ½ cup kosher salt in 1 quart water. Add ¼ cup honey and 1 tablespoon Dijon mustard. Add 1 quart ice water to cool. Pour brine into an air-tight storage container (such as Tupperware) and place whole chicken in the brine. Refrigerate 24 hours. (Sommers cautions not to brine for more than a day, as the chicken could become too salty.)

2. Preheat oven to 300 degrees. Remove chicken from water and truss with butchers' twine to close legs over the lower breast. Lightly season all sides with salt and white pepper. Roast for about 40 minutes, or until a thermometer placed inside the thigh reads 145- 150 degrees.

3. Remove chicken and cool for one hour at room temperature. Remove twine. Portion chicken into servings as desired with a sharp knife – legs and thighs, breasts, etc.

4. When ready to serve, preheat oven to 400 degrees. Combine honey, lemon juice and fresh thyme and brush generously onto each serving. Roast for 8-10 minutes to finish cooking and crisp the skin. Serve with desired sides, such as potatoes and seasonal vegetables.
Want more recipes from local chefs? Click here to Gourmet Yourself!
Copyright FREEL - NBC Local Media