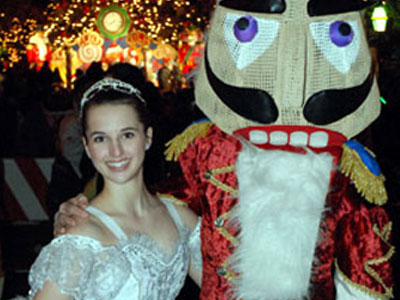 The holidays are just around the corner, bringing all the trappings of winter; (possible) snowflakes, glitzy decorations, plenty of sugar, the occasional party, and, of course, weird toys from extended family members. It's no surprise then that "The Nutcracker" is returning to stages around DFW.

Not just one or two performances, either. Our events calendar lists more than 30 entries for "The Nutcracker" ranging from professional displays at Bass Performance Hall and the new Winspear Opera House to more amateur performances in high school auditoriums and dance studios. The list we've already looked at (which you can find by clicking here) isn't even complete, we assume. Why? Because nearly every dance troupe in the Metroplex is readying a Nutcracker performance for Winter.

Don't get us wrong, we like the show. But do we need this many opportunities to see it? Everywhere we turn, there's another performance starring the Rat King and Sugar Plum Fairy. How are we supposed to make a decision on which one to go see? Distance from our house? Price of tickets? If it's the last one, we'll pick the Moscow Ballet's show at the Majestic. After all, they are giving away tickets with us. (click here to enter)

Maybe next year, some troupe will go against the grain and showcase something else during the holiday season. Just, please, let it not be "Swan Lake."

Greg Janda is NBCDFW's Lifestyle and Features Editor. He loves Tchaikovsky but always skips the Waltz of the Flowers in Fantasia.